Jeju Island Resorts
Looking for the best Jeju Island resorts? Jeju Island, fondly known as the "Hawaii of South Korea," is a melange of striking volcanic landscapes, breathtaking beaches, and verdant countryside. And nestled amidst these natural wonders are two distinct resorts that offer equally resplendent but inherently different luxury experiences - The Shilla Jeju and the Hyatt Regency Jeju.
See also resorts in South Korea
The Shilla Jeju
Steeped in serenity and cradled by the picturesque Jungmun Tourist Complex, The Shilla Jeju stands as a year-round haven of luxury and leisure. Scoring an impressive 9.2, the resort weaves an ethereal atmosphere where the cultural richness of Jeju perfectly harmonizes with the sublime beauty of nature.
Each corner of Shilla Jeju is an exquisite slice of paradise. From the plush rooms boasting breath-taking views of the mountain or ocean to the six distinctive dining options, it is an immersive experience that teases all your senses. The meticulously designed interiors echo a delicate balance of modern opulence and traditional Korean aesthetics. Here, every suite is more than just a place to rest; it's a private canvas painted with soothing colors, comfortable furnishings, flat-screen cable TVs, and thoughtful amenities that encapsulate luxury in every detail.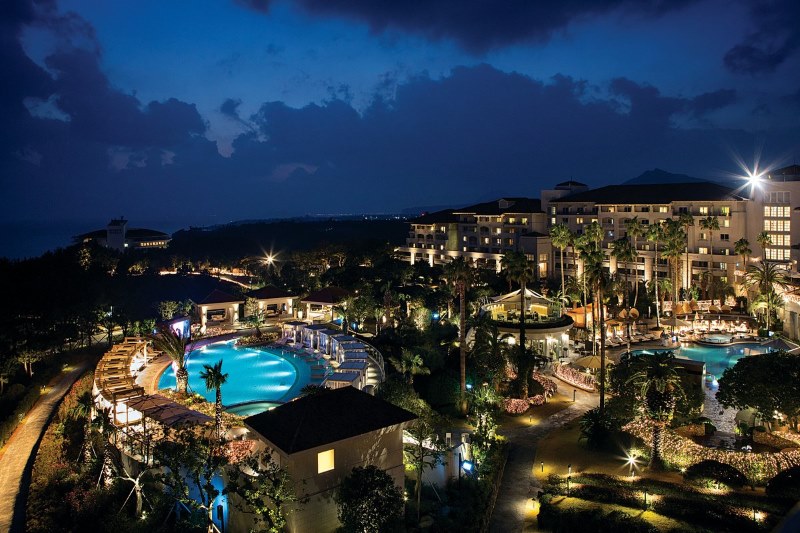 The gastronomical journey in Shilla Jeju is a delightful dance of flavors. With the Korean eatery Cheonjee serving unique Jeju dishes and the Japanese restaurant Hinode treating your palate to traditional delicacies, every meal becomes an event to look forward to. And for those craving a diverse spread, the all-day buffet at the Park View Restaurant awaits.
However, it's not just the tangible elements that make Shilla Jeju a stand-out. It's their commitment to personalized service that transforms a holiday into an unforgettable memory. Their 'Guest Recognition Service' is a testament to this, ensuring your stay is handcrafted to your preferences, be it remembering your name or your preferred breakfast.
For families, the resort unfurls as a playground. Their upscale Glamping Village, Camping Village, and dedicated children's programs promise a melange of cozy barbecues, engaging activities, and an intimate rendezvous with Jeju's beautiful nature. They even go the extra mile by offering free rental of infant goods like cots, baby chairs, and baby bathtubs, emphasizing their family-centric approach.
The indulgence extends beyond the rooms and restaurants to their fully-equipped fitness club. Open year-round, the club offers both indoor and outdoor pools, two spa pools, and a sauna. And when you've had your fill of fitness, the Guerlain Spa stands ready to soothe away your fatigue, leaving you refreshed and rejuvenated.
Despite the sophisticated elegance that Shilla Jeju embodies, it's the breathtaking views of Jeju's clear sky and the sprawling sea that truly make it a dream-like destination. Here, you don't just stay; you create stories, you live dreams, and you gather moments that endure long after you've bid adieu to its shores. Whether you're a couple seeking a romantic getaway or a family chasing a joyful vacation, The Shilla Jeju welcomes you to a world where luxury is not just an offering; it's a way of life.
Find the best deal, compare prices, and read what other travelers have to say at Tripadvisor on Jeju
Hyatt Regency Jeju: City Luxury meets Island Charm
If the Shilla is a whimsical wonderland, the Hyatt Regency Jeju, scoring 8.7, is a metropolitan oasis nestled within Jeju's heart. Located conveniently near the Jeju International Airport, it offers panoramic views of the Halla Mountain and Jungmun Beach.
The Hyatt Regency exudes an urbane elegance, combining sleek modern design with hints of traditional Jeju Island elements. The rooms boast floor-to-ceiling windows, letting in an abundance of natural light and offering stunning seascapes. From state-of-the-art fitness centers to an indulgent spa and the casino, Hyatt promises a plethora of activities for its guests.
But where the Hyatt lags slightly behind is in its more standardized, less personalized approach to customer service compared to Shilla. However, the Hyatt strikes a formidable balance between luxury and accessibility, with a slightly lower price point offering a taste of extravagance without breaking the bank.
Find the best deal, compare prices, and read what other travelers have to say at Tripadvisor on Jeju
Final Verdict
If you're a discerning traveler with a taste for personalized luxury wrapped in the warmth of traditional aesthetics, The Shilla Jeju would be your ideal sojourn. But for those who prefer city-style luxury with a vibrant mix of leisure activities, the Hyatt Regency Jeju serves as an enticing alternative.
Jeju Island, with its dramatic landscapes and luxury resorts, offers an idyllic escape. Whether you choose the whimsical Shilla or the cosmopolitan Hyatt, a stay on this magical island is sure to gift you a bouquet of unforgettable memories. So pack your bags and let Jeju's charm weave its enchanting spell around you!
Jeju Island: Where Volcanic Legacy Breathes Life into a Timeless Sojourn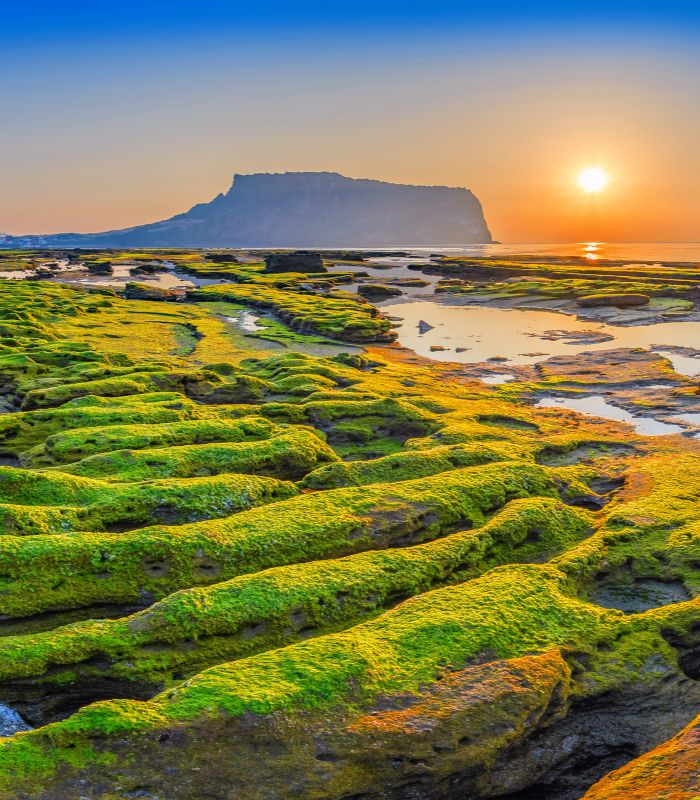 Jeju Landscape
The instant you step onto Jeju Island, you feel it - an embrace by the sultry sea breeze, a whisper of history in the wind, and the quiet promise of an unforgettable journey. This South Korean gem, often hailed as the 'Hawaii of the East', is an enchanting confluence of idyllic countryside, azure beaches, and captivating volcanic terrain.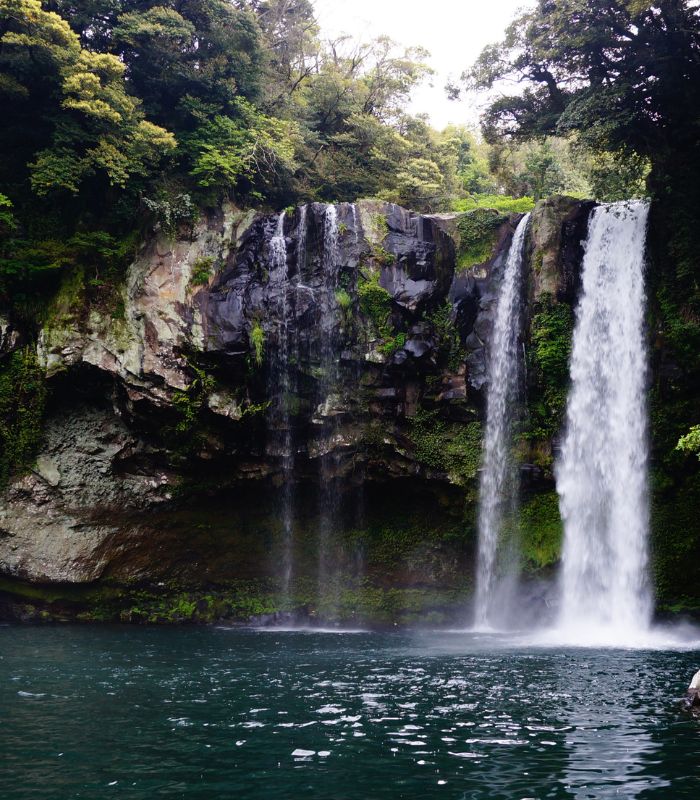 Just imagine waking up in the heart of nature, where Hallasan, South Korea's highest mountain and a dormant volcano, stands as a guardian against the horizon. Its slopes are adorned with a vibrant palette of alpine flora, offering a haven for hikers and nature enthusiasts alike. It's a place where every trail narrates a tale, every rustling leaf hums an ancient song, and the city's buzz feels like a distant dream.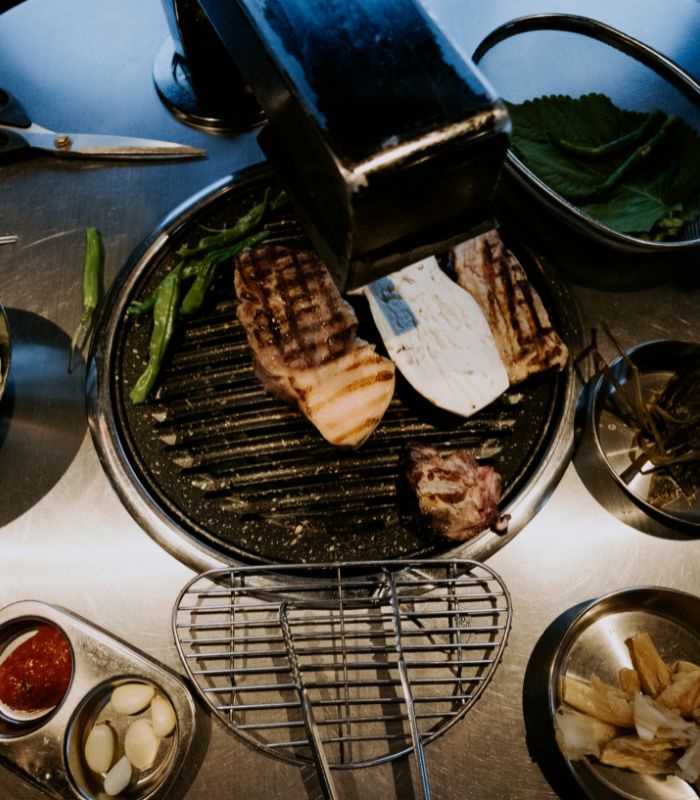 Jeju Island Food
As you descend from Hallasan's lofty heights, you are welcomed by Jeju's emerald expanse of tea gardens. Picture yourself ambling through rows of tea bushes at the Osulloc Tea Museum, cradling a warm cup of locally grown tea, its subtle aroma mingling with the fresh countryside air. Add a bite of their famed green tea roll cake and you're in for a matcha-infused heaven!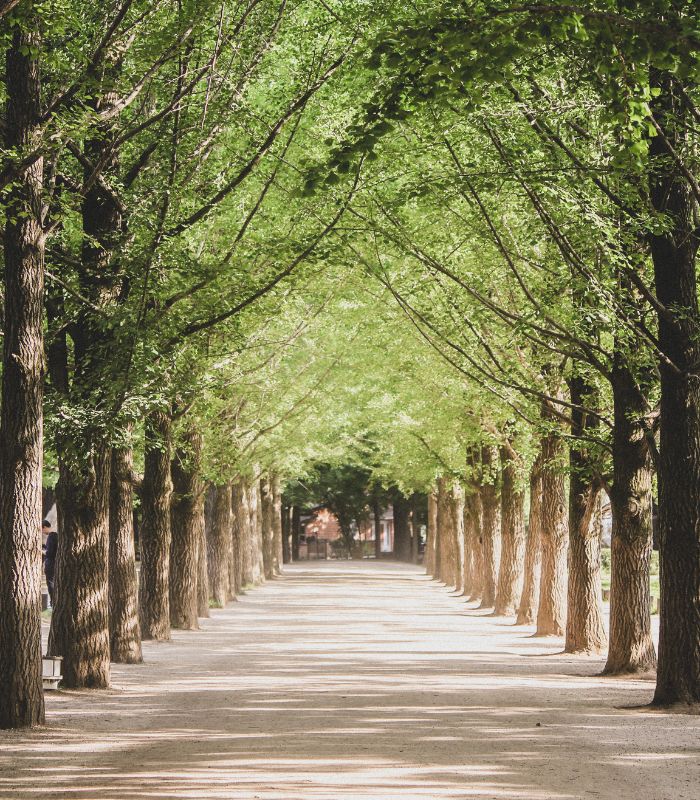 Jeju, however, doesn't limit its splendors to just lush landscapes. Dive beneath the waves at one of its many splendid beaches, and you'll find an underwater world teeming with life. From soft corals dancing in the currents to schools of vibrant fish darting around, it's a vivid spectacle that would give any tropical island a run for its money.
Your seaside escapade remains incomplete without mention of the Haenyeo, or the 'Sea Women'. These female free divers, some well into their 70s, dive deep to harvest seafood, carrying forward a unique cultural tradition. Witnessing their everyday feat of courage and resilience is truly humbling.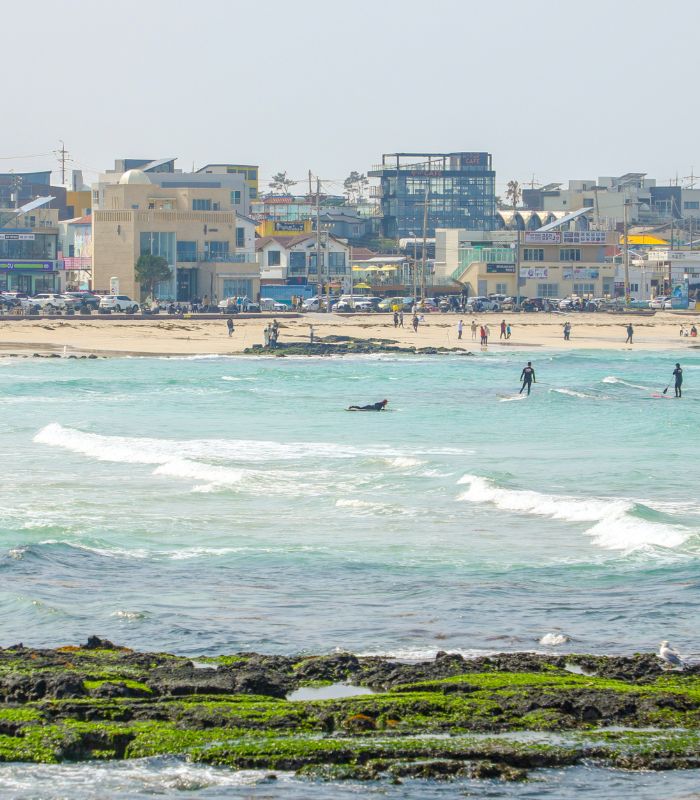 As daylight fades, Jeju's night markets come alive. Jeju City's Dongmun Market is a sensory feast – a medley of vibrant colors, tantalizing aromas, and the buoyant hum of traders. From locally grown citrus fruits like hallabong to a dizzying array of seafood, this is the place to savor Jeju's culinary soul.
In Jeju, history is not confined to the pages of a dusty book; it's etched in every lava tube, every rock, every folk village. A walk through the Seongeup Folk Village or the labyrinthine Manjanggul Cave, one of the longest lava tubes in the world, is like traversing through time, each step revealing a slice of Jeju's rich heritage.
Yes, Jeju has its luxury resorts, its bustling markets, and its gourmet cuisine, but what makes it truly enchanting is its elemental beauty and enduring cultural spirit. It's where modernity blends seamlessly with tradition, and life moves at a gentler, more mindful pace. It's more than just a destination; it's an experience, a memory, a feeling that lingers long after you've left its shores. And that is the true charm of Jeju Island – it always leaves you yearning for just one more day.
Jeju Island Resort Vacation Scorecard
Jeju Island Resort Vacation Scorecard
Natural Beauty: 9.5/10 Jeju's breathtaking landscapes, comprising of majestic mountains, serene beaches, and striking volcanic features, offers a visual feast that would make nature enthusiasts swoon.
Luxury Resorts: 9/10 With lavish retreats like The Shilla Jeju and the Hyatt Regency, Jeju boasts an impressive portfolio of luxury accommodations. These resorts provide top-tier service, upscale amenities, and personalized experiences, albeit with a higher price tag.
Adventure and Activities: 8.5/10 Jeju offers a myriad of activities, from hiking up Hallasan, exploring lava tubes, to scuba diving. However, certain activities are season-dependent and require a good level of physical fitness.
Food and Dining: 9/10 Jeju's culinary scene is diverse and flavorful, featuring an array of fresh seafood and traditional Korean cuisine. Its resorts also house world-class restaurants with menus designed by renowned chefs.
Accessibility: 7.5/10 Being an island, the primary access is through flights or ferries. While the island is well-connected with major cities in South Korea and a few international destinations, it might require additional travel planning for others.
Family Friendliness: 9/10 Most resorts, especially The Shilla Jeju, are equipped with family-friendly amenities, activities, and services. The island also houses attractions like theme parks, which are perfect for a family day out.
Cultural Experiences: 8.5/10 Jeju Island's unique culture, evident in its folklore, traditional villages, and the unique Haenyeo or 'Sea Women', offers enriching experiences for culture seekers.
Spa and Wellness: 9/10 Almost all luxury resorts on Jeju offer top-notch spa and wellness facilities, often using natural elements sourced from the island itself, promising relaxation and rejuvenation.
Overall Score: 8.9/10
Jeju Island serves up an impressive resort vacation experience, effortlessly blending natural beauty, luxury, adventure, and cultural experiences. However, the island's relative remoteness could add to travel time for some, slightly impacting its accessibility score. Despite that, Jeju remains a compelling destination for any luxury traveler.
FAQ about Jeju Island Resort Vacations
Spring (April to June) and Autumn (September to November) are considered the best times to visit Jeju, offering pleasant weather and beautiful landscapes. However, resorts like The Shilla Jeju offer year-round services and amenities.
Jeju International Airport connects the island to numerous domestic and some international destinations. Ferries also operate from mainland South Korea to Jeju.
Korean is the primary language, but English is commonly spoken in resorts and tourist areas.
Resorts offer a variety of activities, from swimming pools, fitness centers, and spas, to unique offerings like glamping and personalized children's programs. Outdoor activities such as hiking, diving, and exploring the island's cultural heritage are also popular.
Resorts like The Shilla Jeju offer a range of dining options, from Korean and Japanese cuisines to all-day buffets. Many resorts source ingredients locally, offering fresh seafood and traditional Jeju dishes.
Yes, most resorts cater to families with children offering amenities such as playrooms, children's programs, and even free rental of infant goods.
Luxury resorts on Jeju typically offer fully-equipped spa and wellness facilities. Some, like The Shilla Jeju, collaborate with premium brands like Guerlain to offer top-tier spa experiences.
As a popular luxury travel destination, resorts on Jeju can be on the expensive side. However, the level of service, quality of amenities, and the overall experience often justify the cost.
eju Island is generally considered safe for tourists. As with any travel, it's advised to stay aware of your surroundings, keep valuables secure, and follow local laws and customs.
💼 We cherish our independence! ✈️ Our travel recommendations are carefully researched, bias-free, and powered by human expertise by April and Ricky of LRB (we have personally researched and travelled to many of these destinations and researched others thoroughly through first-hand accounts). 🌍✨
We try to keep everything up to date, but please always do your own research and contact us if you know any issues for us to help others as best we can as a small but professionally focused team! 🧐📚⚠️