Fiji Luxury Resorts
Looking for some great Fiji luxury resorts? There are quite a few to stay at. We've recommended many of the best. They are beautiful, easy to book at and each have something extra special to offer.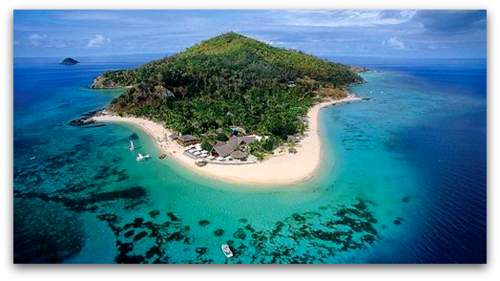 Fiji Luxury Resorts - Castaway Island
Get An Expert Price Comparison
Try the BookingBuddy price comparison tool for an easy price comparison on flights, hotels, packages, and more. Get huge savings and  find the LOWEST PRICE when you compare the top travel sites in one place.

---
Fiji Luxury Resorts List:
Castaway Island Fiji Luxury Resort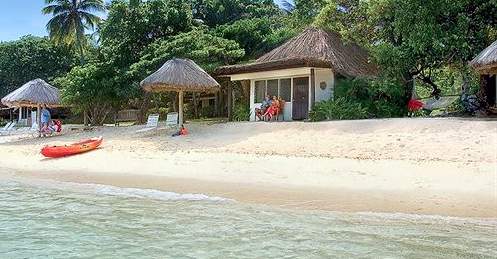 Castaway Island Fiji Resort
Set on a pristine beach on the namesake Castaway Island Fiji, which is also home to a number of other resorts. This particular resort stand out and has outdoor swimming pools, a the full-service spa, and a good swathe of restaurants and other facilities.
Only 66 rooms in this top beach front hotel.

More information and offers for Castaway Island Fiji

---
Considered a Fiji Vacation Rental?
Top 25 Vacation Rental Deals with Reviews

Some of these great vacation rentals can sleep up to 20. They are scattered across the Fiji Islands and are worth considering.

---
Vatulele Island Resort Fiji
Location: Over looking a white sandy beach surrounded by jungle and a reef.

Amenities: Private pools and a full-time personal butler, PADI scuba diving, snorkeling and fishing. Choice of quality dinning experiences wine cellar and pavilion.
Rooms: Only 19 buries. At either end of the resort's private beach are two villas.   
Vatulele Island Resort Fiji
Reviews: Guests are shocked by the size of the villas and the level of personal attention. Some were also a little shocked at the resorts style of seating all guests together at one table for meals but quickly warmed up to it. Touches, like French Champagne included in the tariff ware appreciated. People don't leave here disappointed.
Get more information and see the latest reviews for Vatulele Island.
---
Royal Davui Fiji Island Resort on Beqa Lagoon
Perched above sparkling Beqa Lagoon, the Royal Davui is less than an hour by helicopter to the major Fiji gateway airport. While not an official all inclusive couples resort the focus on couples and included meals make this a similar experience to other high class inclusives.
Villas each have a private Jacuzzi and there are the obvious invitations to snorkel and experience the alluring private coral reef.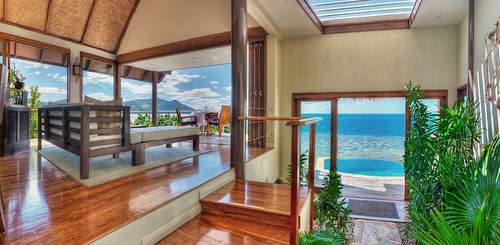 Royal Davui Fiji Island Resort on Beqa Lagoon
A Worlds Best New Resort rooms are spacious and have huge, big, comfortable beds and luxury throughout the whole resort. Resorts do not get much better close to the bay in Fiji.
More information and offers on Royal Davui Fiji.

---
Jean-Michel Cousteau Fiji Islands Resort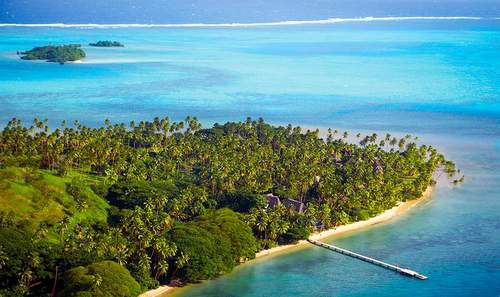 Jean-Michel Cousteau Fiji Islands Resort
This is the type of resort that makes Luxury Resort Bliss seriously worthwhile. An outstanding resort often winning the top awards including: Trip Advisors - Worlds Best Environmentally Friendly Resort and World Travel Awards Fiji's Leading Boutique Resort
and Suites.

Location: On the island of Vanua Levu within 17 acres of a coconut plantation, at Savusavu Bay.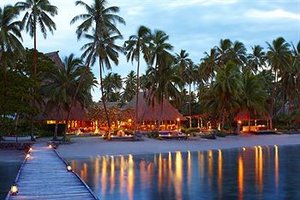 Amenities: A biologist tutors guests on their questions about the pristine marine environment and a custom-built dive boat. Facilities also include a restaurant, bar, outdoor, pool, watersports, tennis, spa, scuba diving, best children's program in the South Pacific, activities desk, some room service and babysitting.
Rooms: Thatch-roof bungalows and huge wooden window fans and outdoor hammocks set a tropical oasis atmosphere. 
Reviews: Guests reveled in the tropical rainforest of the private island and in clearly viewing fish in the aqua marine waters. Families with kids loved the activities as did those who wanted to soak up an authentic Fiji experience.
More information and special offers on Jean-Michel Cousteau Fiji Islands Resort.
---
Taveuni Island Fiji Resort & Spa
Location: Set on a cliff close to rain forest waterfalls and clear blue oceans.

Amenities: Kayak or snorkel or simply enjoy the spa and other facilities. Fijian and Indian "feasts" and other specialties. Home cooked organic foods and picnic hampers prepared by the expert chefs.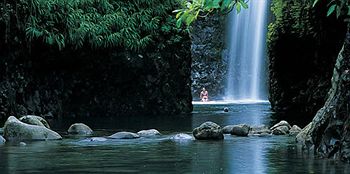 Taveuni Island Fiji
Rooms: With only 18 guests around at any one time you are sure to find some privacy. 12 bures and one exclusive oceanfront villa.

 Reviews:  Guests were blown away by the spectacular views, the food, the beach and the isolation. Some prefer to take the Sun Air link rather than the Fiji Air link. Amazing place (because it is good).
More information and offers on Taveuni Island Resort & Spa 
---
Outrigger on the Lagoon Fiji Resort
This resort proves you don't have to charge an arm and a leg to match it with the "bliss". Great for families looking for a bigger resort on a budget. One of those reliable resorts that keep the more expensive resorts honest by providing quality Fiji vacations at an affordable price.

Location: On the Lagoon Fiji with 40 acres. Close to riverside shopping.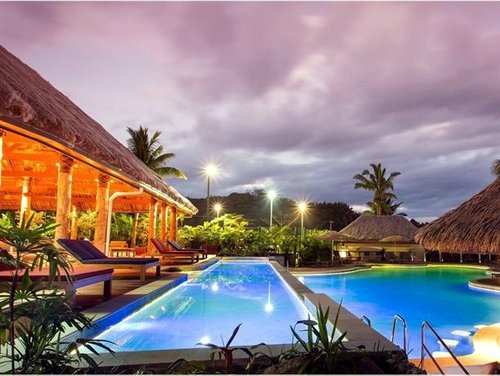 Outrigger on the Lagoon Fiji Resort
Amenities: Enjoy a huge pool, golfing + training, hiking, fishing, horseback riding, white-water rafting, kayaking, complimentary snorkeling, Fijian fire walking shows, torch  lighting ceremonies, drinking  kava,tennis, room service, butler service, entertainment choice of casual and intimate dinning experiences.
Kids: Little Riggers and Beach Riggers activities.

Rooms: 207 air conditioned guestrooms and 47 thatched bungalows all with balconies or verandas, refrigerators, safes, hammocks, Internet access and satellite television.

Reviews: Guests enjoyed the pool area for children. This is a well regarded hotel for families - who may have a different interpretation of what luxury means.

Outrigger on the Lagoon Fiji Resort
---
---
Fiji Beach Resort and Spa
Fiji Beach Resort and Spa
A top 5 star resort near a private beach in Nadi with 3 restaurants an outdoor pool, a fitness facility, and a children's club.

Fiji Beach Resort and Spa Managed by Hilton 

---
Poseidon Mystery Island Underwater Hotel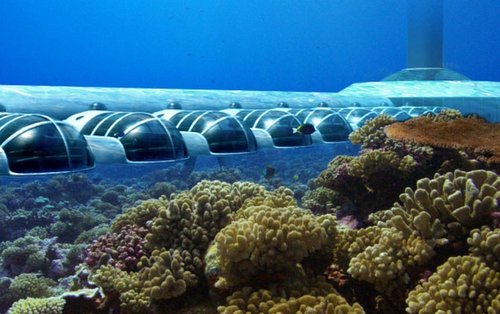 Poseidon Mystery Island
This is one resort we are looking forward to seeing. Poseidon Mystery Island is a mile long and has a wonderful reef, but it's what's under the sea that is fascinating..
Where the reef lies a truly remarkable resort.

---
For more resorts like this, try Tahiti luxury resorts. 
---
---