All Inclusive Resorts in Greece
Looking for the best all inclusive resorts in Greece? These Greek all inclusive resorts are good to outstanding in our opinion, and the opinion of the guests who have stayed there.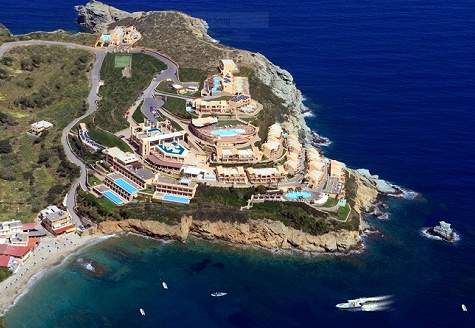 Sea Side All Inclusive Greece Resort
---
Best All Inclusive in Greece
Ikos Oceania was recently rated the best all inclusive in Europe by TripAdvisor.  Find out more about this resort and other great Greek all inclusive resorts below. Not all are exclusively all inclusive then follow the links provided and check and confirm any package you book.

Ikos Oceania Greece All Inclusive Resort
Living and inspiring many on a private beach close to Ancient Olynthos, this amazing 300 room all inclusive resort in Greece, that has everything you need for a relaxing, five star vacation. From the magnificent full-service spa to the action packed water activities, everything here is done well.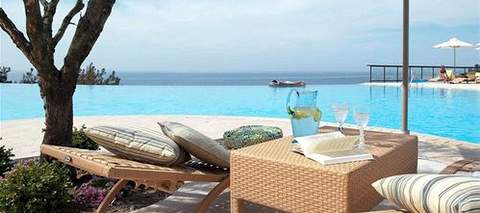 Ikos Oceania Greece All Inclusive Resort
The resort is not reserved for couples and features children's cluband pools. 

Find out more on the Ikos Oceania Greece All Inclusive Resort.
---
Iberostar Creta Panorama & Mare Greek All Inclusive Resort
A top choice for a family all inclusive resort in Panormo, Crete, Greece. Enjoy the beauty of Crete Aegean Sea and traditional Greek hospitality in luxury 4-star style perched in a private cove.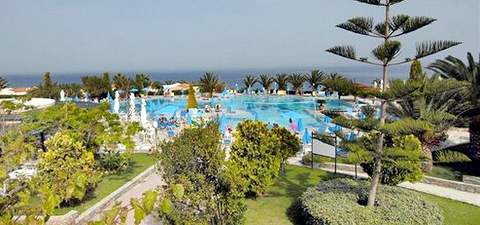 Iberostar Creta Panorama & Mare
Mediterranean food is available at meals and throughout the day. Also available is a special set menu offerings at dinner once per week.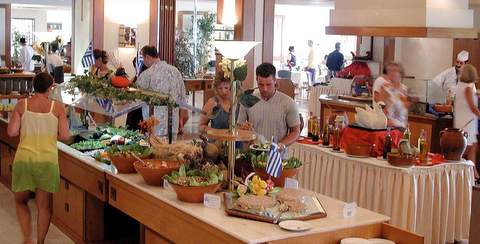 Iberostar Creta Panorama & Mare
When you are booking you will notice there are two rates to choose from. Take some tome to study both the half board and all inclusive to see which works better for your family or for your romantic trip away.
Enjoy breakfast and lunch with local "Greek flavors and products" with drinks included, children's entertainment, evening shows, and stacks of activities. And did I mention seven different types of pools?
This is really a grand hotel offering grand value and service. The top class shows, plenty of green space to relax, and the commitment to providing complete family vacation packages make this a top choice.  A full recommendation for us.
More information and special offers on the Iberostar Creta Panorama & Mare Greece all inclusive resort.

---
Mitsis Laguna All Inclusive Greece Resort & Spa
This 350 room Greece all inclusive resort is of outstanding reputation has received consistently great reviews, and has attracted a following among Greek family all inclusive seekers. In 2014 made the TA travelers choice awards as one of the worlds best family resorts.

Mitsis Laguna All Inclusive Greece Resort & Spa
Mitsis Laguna Resort & Spa has enough activities to keep the kids and yourselves constantly entertained with an amazing array of food to choose from. Located near  beach , it has 7 restaurants, an indoor and outdoor swimming pools including a  lazy river.  Although oftent 5 star in Greece may not equal 5 star in other locations in this case you can make an exception. This is one outstanding resort for a Greek style all inclusive family vacation.
Mitsis Laguna Resort & Spa Hotels.com all inclusive 

---
Aquis Silva All Inclusive Greece Beach Resort
The Aquis Silva All Inclusive Greece Beach Resort in Crete, is well regarded in reviews as having a great all inclusive touch of class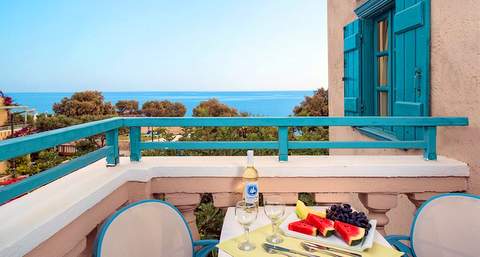 With great facilities including two outdoor swimming pools, tennis courts, a spa tub, a steam room, sauna and more it's easy to enjoy the location. Lots of entertainment keeps guests satisfied into the night.
This is an excellent attempt at a true Grecian village experience with bungalows and a vibrant in a great setting with flowers.
Two big outdoor swimming pools set amongst low stone walls on an expansive resort makes sure you don't get crowded out in the 300 + room all inclusive Greek resort.
Check when booking but often the All-Inclusive rate includes the following:
Full American buffet breakfast, buffet lunch and dinner, local alcoholic and non-alcoholic drinks; in-room drinks including wine, swimming pool, beach and pool sun loungers, towel service, classes, children's mini-club 6 days, Greek dancing, cooking and language lessons, tennis, petanque and boccia, volleyball,  windsurfing, water skiing and pedal boats, Zorba's night.
Although only a four star many guests agree this could easily rate five star. The all inclusive relaxation sensation really sweeps over you here and there is a nice vacation atmosphere.
More information on the Aquis Silva Beach Hotel.
---
Sea Side All Inclusive Greece Resort & Spa
This out of this world, amazing Greece All Inclusive located in the Mononaftis Area of Crete  includes  breakfast, lunch, and dinner and has a relaxed and easy going, family friendly vibe. There are lots of coffee shops,  snack bars, pools and things to do. 
Sea Side All Inclusive Greece Resort
The Sea Side Resort & Spa was recently listed in TripAdvisors most outstanding resorts because of it's outstanding ability to deliver a relaxing Greek spa vacation and is in their version of a hall of fame.
More information and special offers for CHC Sea Side All Inclusive Greece Resort.
---
Gregolimano Club Med Greece All Inclusive
Located in an island woodland going down to clear blue seas, this matches the Athenia. In guest approval however Gregolimano does not do as well as the old Club Med Athenia. But that may well change as better reviews start to come in on the back of some quality renovations that have recently taken place.

There are also a few more team sports here.  Beach volleyball, tennis, archery and circus school but it doesn't have the dance lessons. Water skiing, wakeboarding and sailing are really enjoyed by guests. 
Gregolimano Club Med - at TripAdvisor

---
Aktia Lounge Hotel & Spa All Inclusive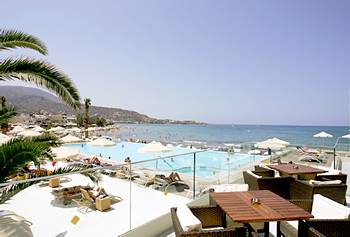 Aktia Lounge Hotel & Spa All Inclusive
While the Aktia Lounge Hotel & Spa gets reasonable reviews it doesn't generate quite the same level of excitement from past guests as some of the other resorts on this page. 
More information on Aktia Lounge Hotel Resort & Spa.
---
Top Greece Resorts Video
Choose each of the top Greece Resorts to view related video:

Video
Some of the hotels above offer both room only OR all inclusive. The ensure you your choice is an  all inclusive option when you click through and book with the links provided.
Check out our bliss list of the top 50 resorts in Europe.

---
Greece Vacations

Greece is widely regarded as the place where the western civilization was born many centuries ago. It is widely acknowledged as the guiding force that has driven the human civilization for over 2500 years now. It is also the place where three continents, namely Europe, Asia and Africa, and three varying climatic conditions submerge into one. These enthralling shades make it one of the most visited places on earth today. Roughly 16 million tourists walk on its soil every year, thus allowing several hundred thousand Greek nationals to be employed by its tourism industry. Located at the southeastern fringe of the European peninsula, Greece is spoken of highly for its world class beaches, lavish hotels and the level of hospitality it offers. Hotels in Greece are an integral part of its tourism infrastructure, which earns around 15% of the nation's entire GDP in revenues.



Rich visuals may be recalled; if one began examining how the events of Greece had benefited the world we are part of. It was Greece that first gave the idea of democratic governance almost 2500 years ago. The word "democracy" itself stemmed out from the Greek language, meaning the rule of the people. In spite of its initial doubts, the Greek democracy survived on and was later followed by many other states. Modern states are often seen mimicking the same federal structure that Romans established around 2000 years ago. However, it should be noted down for academic reasons that Romans were more of an autocratic regime, as their later years suggest. Only parts in and around Athens had democratically elected councils to look after their people.              



Greece also gets known for having gifted the world with Modern Olympic Games. It was Athens in 1896, where the first Olympic Games were organized after its modern-day revival. Olympic Games have since become a rallying point for the players and athletes from all over the world to compete and people from varying backgrounds to mingle with each other. Remains of the ancient Olympia stadium were excavated and restored in the middle of the 20th century. It is the same location from where the Olympic Flame starts its journey and gets carried to the game venues. These and many other exciting stories may suggest why Greece has been admired for ages now.



The world loves visiting Greece in huge numbers as a result, providing an immense boost to its tourism infrastructure. Its scenic Mediterranean coastline and the yearlong pleasing weather make holiday making fun and frolic. Athens, Peloponnese, Cyclades and Crete are some known cities carrying immense historic significance, where most travelers prefer heading on to. Hotels in Greece would be seen having high occupancy rates throughout the year, in this process, and one should plan their journeys in advance, for the same reason, to make their trips hassle free. Travelers can buy both cheap and high end accommodation from hotels in Greece, and also try to get best deals from tour operators, which include last minute holidays.



There is enough online support available for those who might be willing to book their accommodation from hotels in Greece. Sea-side resorts and self-catering apartments should also be taken into consideration apart from prime hotels in Greece for garnering accommodation. Planning out in advance should make your Greek journey memorable, since there were plenty of activities to be entertained from apart from visiting the usual heritage sites.