Koh Phi Phi Thailand Resorts
Interested in Koh Phi Phi Thailand travel? While only a thousand kilometers away from the hustle of Bangkok, in reality worlds and words away. We've listed the best Koh Phi Phi resorts here along with a number of accommodation options. This is definitely the place to take that boat on the crystal clear water picture.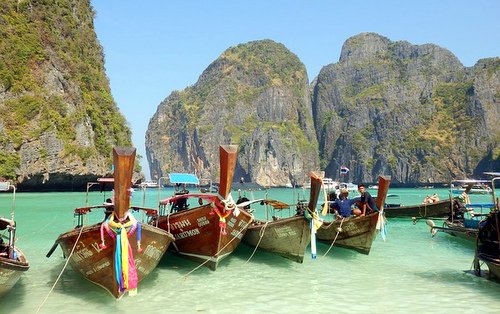 Koh Phi Phi Thailand
---
Koh Phi Phi Thailand Tourism Overview
This beautiful set of islands was the location for the movie The Beach and is often regarded as one of the most spectacular locations worldwide. I'm sure you have seen a computer screen saver with an image of the remarkable shore lined with bamboo boats.
Video Overview: Koh Phi Phi, Maya Bay, Thailand, Krabi.
This video series begins with a minute of two of pictures of the island followed by information about the island, transfers, and things to do. 
The islands of Phi Phi Leh and Phi Phi Don are remarkable in their serene beauty. Although the islands are clearly in need of a little regulation to bridle the tasteless grab for cash by some operators, their are some pearls that shine through. 
---
Best Koh Phi Phi Resorts
Phi Phi Island Village Beach Resort and Spa
Phi Phi Island Resort is a 4 star luxurious resort with fantastic reviews from past guests. It is a peaceful spot on the beach within lush vegetation looking out onto crystal clear water.
There are a few different accommodation options. There are hillside pool villas with private Jacuzzi pools, beachfront junior suites, Thai style bungalows, and superior bungalows. 
Resort highlights include a spa, PADI 5 star dive centre, activity centre, pool, tennis courts, and restaurants with a variety of food. 
Past guests love this resort calling it super romantic and paradise on Earth. Staff are reported to be excellent and guests like that this is away from the main touristy area. Honeymooners especially like it here. 
Get more information and see the latest reviews for Phi Phi Village Beach Resort and Spa. 
Great video of this resort:
---
---
Zeavola Koh Phi Phi Thailand Luxury Resort
Accommodations at Zeavola Resort
This four star resort is close to Ao Ton Sai Beach, has it's own private beach, outdoor pool, private gardens, and luxurious villas with outdoor rain showers. There's also complimentary wireless Internet access and a hot and cold buffet breakfast.
The spa has a steam room, a sauna, massage and treatment rooms, facial treatments, and more.  
Reviews from past guests are excellent here. Guests note that the rooms look just like the photos online, staff are very friendly and helpful, location is quiet, dive school is very good, and views are really amazing.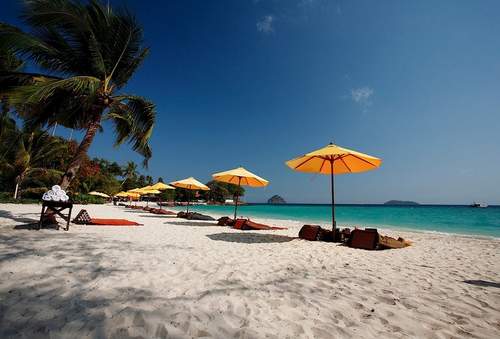 Beach at Zeavola Luxury Resort
Reviews, more information and links to special offers for Zeavola Koh Phi Phi Thailand Resort
---
---
Koh Phi Phi Le - Top Resort:
---
Phi Phi Hotel & Beach Resort
This resort gets fantastic reviews from past guests and is a good place for all but all our top family-friendly resort in this area.
Resort highlights include great beach, infinity pool, restaurants, cabanas, team building activities, kids pool, sports like volleyball and basketball, obstacle course, kids playground, and more. There are a number of different types of rooms and villas to choose from. 
There aren't many reviews of this place but so far, they are excellent. 
See the latest reviews and get more information for Phi Phi Beach Hotel and Resort. 
Resort website (you may have to book here)
---
There are many more great spots to search in Thailand. To continue your search from here, take a look at:
---
---