Jamaica Luxury Resort
| | |
| --- | --- |
| Looking for a great Jamaica luxury resort? The resorts listed here have been hand-picked as the best in the country. They are all 5 star resorts, have excellent service and accommodations, and their customer reviews (which we search out and read) are fantastic. | |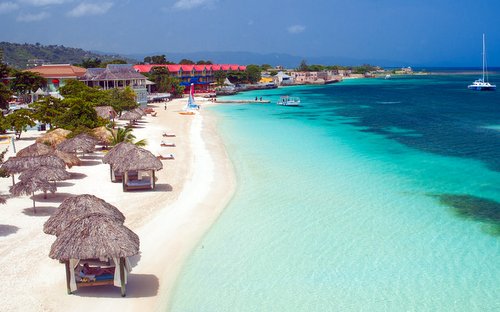 Sandals Montego Bay
Couples Negril All Inclusive Luxury Resort
Location: Oceanfront, 18 acres, Bloody Bay, Negril, Jamaica. Perfect for: adults, water sports - more varied than other resorts, and honeymoons.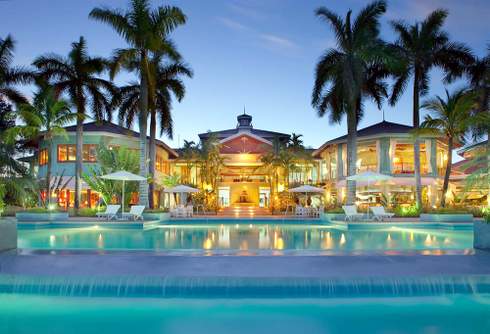 Couples Negril All Inclusive Resort
Resort highlights: eco-friendly, adults-only, scuba, snorkeling, kayaking, windsurfing, sailing, tennis, basketball, boat tours, sports and other classes, entertainment and nightlife, golf, weddings, free shuttles to Negril and other places, calm waters, hammocks, nude section, infinity pool, spa tubs, spa, beauty salon, fitness centre, games room, Internet cafe, 3 restaurants.
Rooms: 234, 3 story building - no elevators, white walls with yellow linens and primary colour accents. 
What reviewers say: staff are amazing, accommodating and helpful, beach gets better each year, great food, worth the money, almost perfect, too many rude and obnoxious guests, "like coming home".

There are many guests who return 3,4 and more times. Receives a number of 5/5 ratings.

---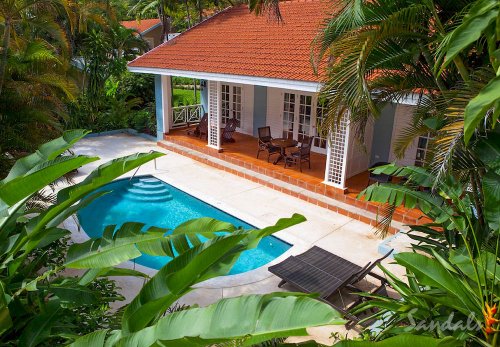 Sandals Ochi Beach Resort
---
More resorts in Negril and Montego Bay:
Negril All Inclusive Adult Resorts
Negril All Inclusive Couples Resorts

Montego Bay All Inclusive Adult or Couples Resorts

Montego Bay All Inclusive Family Resorts
The Caves Jamaica Luxury Resort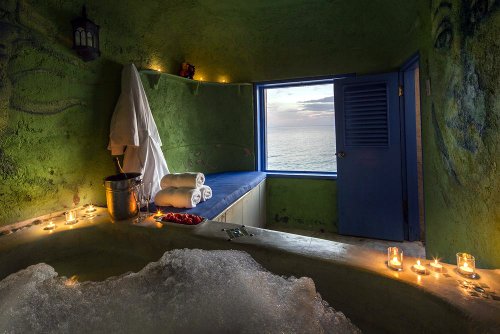 The Caves Jamaica Resort
The Caves is continuing to do what has made it an outstanding all inclusive property. Located in Negril's West End and close the the seven-mile beach.

This is a small resort with 12 cliff-side accommodations and all inclusive. This resort is close to town, snorkeling, diving, and on a very secluded property. It has won awards for romance and being a small resort.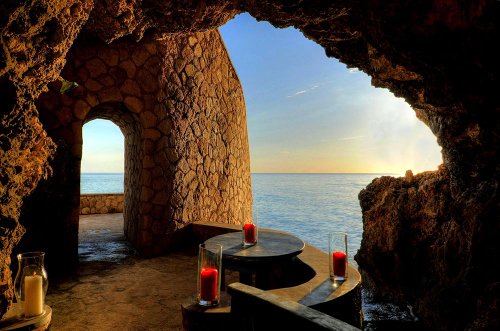 The Caves Jamaica Luxury Resort
Reviewers say the food is excellent, staff are attentive, its very fun to jump off the cliffs, and its perfect for relaxation and romance.
More information on The Caves.
---
Iberostar Grand Jamaica All Inclusive

Location: Private beach, Rose Hall Plantation, Montego Bay, Jamaica. Perfect for: golf, spa, and water sports.

Resort highlights: Jamaica luxury resort with 5 restaurants, championship 18-hole golf, spa, fitness centre, beauty salon, boutique, jogging trail, jacuzzi, pool, tennis courts, kids program, all-inclusive or room-only, snorkeling, water sports, entertainment (nightlife).

Rooms: 427, newly renovated, balcony/terrace, Internet, Frette luxury linens, green, yellow and pink.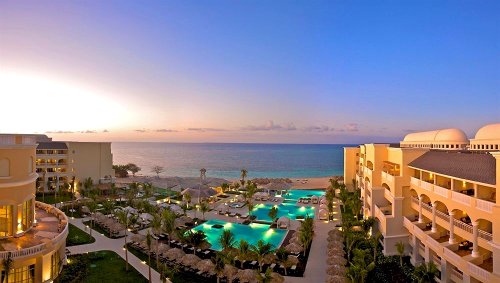 Iberostar Grand Jamaica All Inclusive
What reviewers say: perfect honeymoon, excellent service, high-end resort that meets all expectations, every room has a gorgeous view. Many reviewers have been giving this resort perfect scores and say it is the best of any resort they've ever been too. High praise and let's hope they keep it up!
More information, special offers and reviews of Iberostar Grand Rose Hall 
---
Jamaica Inn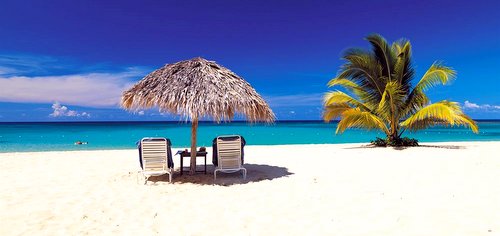 Location: Premier Jamaica luxury resort on a private beach, Caribbean Sea, Ocho Rios, Jamaica. Perfect for: getting away from it all, relaxation, peace and tranquility, and the beach.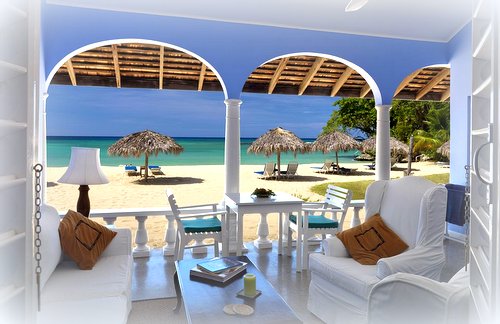 Jamaica Inn
Rooms: Jamaica luxury resort with 47 suites, overlook the beach or ocean, no TV, no radio, no clock, periwinkle and white, spacious, immaculate, furnished balcony/veranda.
Resort highlights: winner of a number of travel awards, family owned, very experienced staff, spa - all natural approach, snorkeling, croquet lawn, library, fitness room, arrangements for airport pick-up, pre-electronics era feeling, 2 restaurants, 2 bars, no children under 10 or 12 (depends on date), pool, sailing, kayaking.
What reviewers say: intimate, great place to get away from it all, if you want structured activities and nightlife go somewhere else, full of staff who can't do enough for you, beautiful, perfect for a honeymoon, view was breath taking.  Everyone gives this resort a 5/5 rating. The general description for it is "perfect!"

More information on Jamaica Inn - at TripAdvisor

More Ochos Rios Resorts

---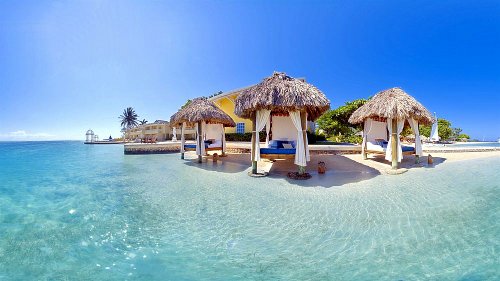 Sandals Resorts in the Montego Bay area
---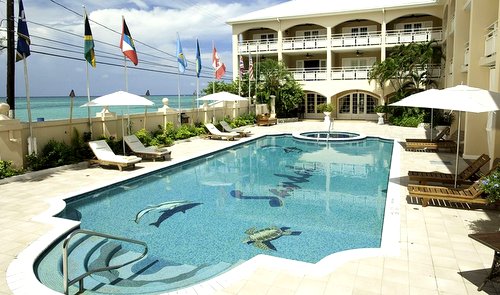 Sandals Carlyle Inn Montego Bay Jamaica Resort
---
Round Hill Hotel and Villas
Location: Ocean front, Montego Bay, Jamaica. Perfect for: "low-key luxury" (not showy), spa, water sports, beach, swimming.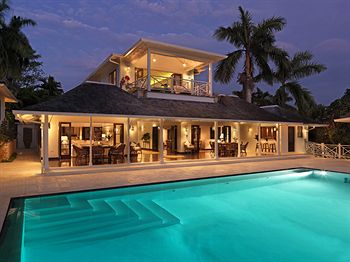 Rooms:  Jamaica luxury resort with 36 oceanfront rooms in Pineapple House, newly renovated, designed by Ralph Lauren - white with pink and blue accents. 27 Villas with 74 suites. All face west for sunsets. Decorated by individual owners.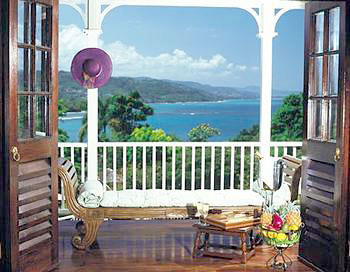 Resort highlights: many gardens, secluded beach, spa by the sea - includes fitness centre and pool, customized weddings, large pool overlooking beach, snorkeling, kayaking, windsurfing, Hobie Cat sailboats, all-inclusive or room-only plan, horseback riding, water sports, kids club (3-11), all-inclusive dine-around program (can eat at a number of close-by restaurants), tennis courts, golf close-by, fishing ($), water skiing ($).

Special offers and reviews for Round Hill Hotel and Villas

---
---
Geejam Jamaica Luxury Resort
The new addition to the list this year was amazing Geejam Hotel which is set in the relative wilderness and comes complete with outstanding luxury fittings including a Recording Studio, Spa, and Sanwood Pool.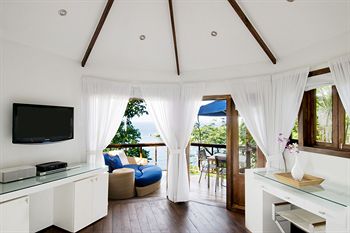 Geejam Jamaica Luxury Resort
The resort has found itself on a number of "best of" lists in the past year for trendy, luxury and spa hotels. It has also gotten a lot of attention being featured on TV travel shows and magazines.
What reviewers say: "favorite place ever", staff treat everyone like royalty, friendly and accommodating staff, delicious food, restaurant has immpecable service, great check-in, spa was phenomenal, wonderful for families with young kids, modest beach.

This resort often has the review "love it!" and receives many 5/5 ratings. They also have many repeat visitors.
More information on Geejam Hotel.

Click here to see more villas in Jamaica.

---
Goldeneye Jamaica Luxury Resort
Location: Beaches (private), tropical forest, Caribbean Sea, Oracabessa, Jamaica. 20 minutes from Ocho Rios.

Resort highlights: Jamaica luxury resort originally owned by Ian Fleming (James Bond creator), all inclusive, water sports - kayaking, sailing, snorkeling, windsurfing; tennis, guided nature walks, kid's activities, glass-bottom boat, customized dining - no set menu, by appointment massages in location preference ($), calm water bay.
Perfect for: seclusion and privacy, relaxation, beach.

Rooms: 3 "cottages", Fleming House (3 bedroom), Royal Palm (villa), outdoor shower, (indoor also), kitchens,
What reviewers say: calling it a "resort" is a misnomer, tranquil, luxurious, "one of the most memorable stays I've had", exceptional staff, every detail taken care of, stunning views, wedding of a lifetime, good but not great, staff sometimes appear without announcing themselves, food is good but boring after a few days, like the Garden of Eden, great caves, great pool, fantastic honeymoon.

Many 5/5 ratings. 

GoldenEye Hotel & Resort

---
Top Jamaica Luxury Resorts Video
Video playlist of the top 10 luxury resorts in Jamaica beginning with a  recent promotion by Jamaica Tourism to get us in the mood.

---
If your looking for something specific, here's what our Top 7 specialize in:  
For relaxation and tranquility: Jamaica Inn
For experienced and excellent service: Jamaica Inn
Golf: Ritz-Carlton
All-Inclusive: Round Hill, Couples Negril, Goldeneye Resort, Ritz-Carlton
Spa: Round Hill
Environmentally Friendly: Couples Negril
Water Sports: Couples Negril
Seclusion: Goldeneye
If you need more information on Jamaica itself, visit the Official Jamaican Tourism Website. Also take a look to the right for more locations and great resorts in Jamaica.