Montego Bay All Inclusive Resorts
Here you'll find the top Montego Bay all inclusive resorts. All have great beaches, facilities and activities. Past guests also rate them very well. See also the latest all inclusive specials and deals from the leading providers.
Sandals Island - Montego Bay All Inclusive Resorts
See special offers for these resorts on the TA :Top 25 Montego Bay Resort Deals
You may also want to check out:
---
Iberostar Grand Montego Bay All Inclusive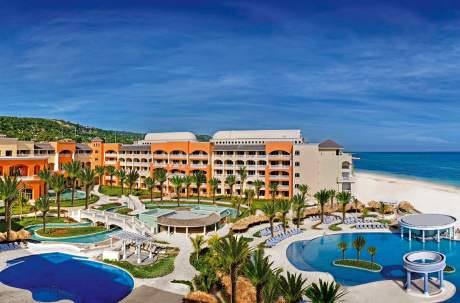 Iberostar Grand Rose Hall Montego Bay All Inclusive
This is a true 5-star all inclusive with relaxing ocean views, wide open rooms, and with access to local facilities and restaurants. The continued excellence of the service here has been rewarded with acclaims coming from a variety of tourism bodies. In 2014 for example, this resort came in at number 5 as one of the top all inclusive resorts in the Caribbean - TripAdvisor Travelers Choice Awards. Since then, the service and facilities have remained in excellent condition.
Some notable inclusions in the packages are:
Food and Beverage 24 hours.

Spa and gym.



Daily activities and shows.

Mini-Club for children.
Meals and snacks are provided in buffet or  la carte restaurants.
More information and special offers for the Iberostar Grand.

---
Secrets Wild Orchid Montego Bay Luxury All Inclusive Couples Resort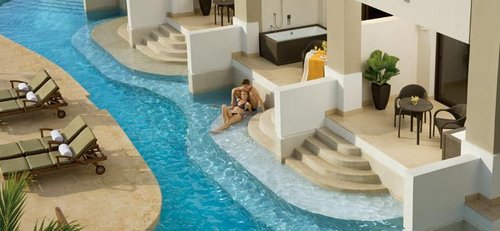 Secrets Wild Orchid Montego Bay All Inclusive Couples Resort
This adults only luxury all inclusive resort offers a lot of privacy and the opportunity for romance (lots of ways to make your girl feel important guys).
Stylish resort on the beach including 8 restaurants, swim up poolside bar, and hot and cold buffet breakfast. Hard to go wrong. Top reviews all round. This is the first year for this resort to make our list.
Special Offers for Secrets Wild Orchid Montego Bay - Luxury All Inclusive

---
Sandals Montego Bay All Inclusive Resort
The original Sandals Couples Resort at Montego Bay on 26 acres of lush gardens fronting Jamaica's largest private white sand beach. 10 minutes from Sangster International Airport.l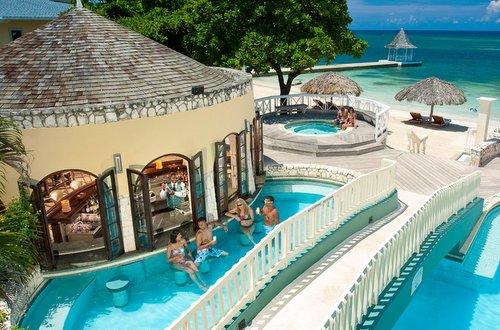 Sandals Montego Bay All Inclusive Resort
Amenities include 5 gourmet restaurants on the property plus another 6 restaurants at the neighboring Sandals Royal Caribbean and the Sandals Inn. Also snorkeling, scuba diving, waterskiing, tennis, state-of-the-art fitness center, a domed amphitheater for entertainment, 4 swimming pools, swim-up bar and four whirlpools.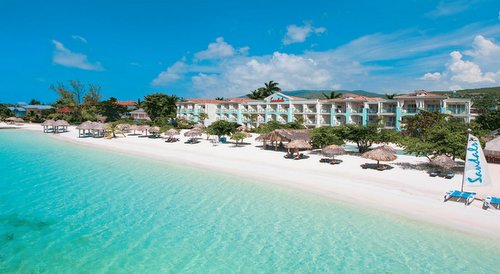 Reviewers highly recommended this resort with beaches better some other Jamaican Sandals resorts. Quick with a smile staff who are ready to help with the entertainment games or share some island history.

Rooms: Check out the Roc Estate Beachfront Villa Suites (1593 sq. ft.) with a full size sundeck.
Special offers and more information on Sandals Montego Bay
---
Hilton Rose Hall Resort and Spa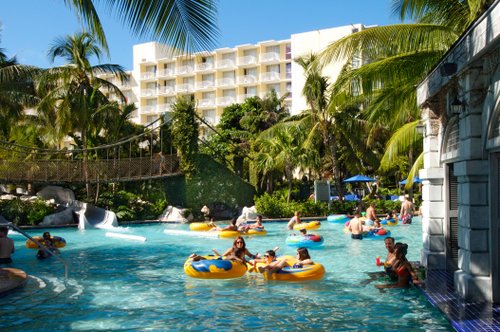 Hilton Montego Bay Family Resort
Four star all inclusive on the beach in Rose Hall. It's been surprising visitors with the quality of service and attention to detail. This is especially true when it comes to entertaining the many families who adore this resort and come back again and again.
Special offers Hilton Rose Hall Resort and Spa - All Inclusive

---
More Montego Bay all inclusive resorts:
---
Grand Palladium Resort, Montego Bay
In the coastal town of Lucea, Hanover, on the north eastern coast of Jamaica. An all inclusive spa resort on a private beach. Great restaurants, swim up bar, a poolside bar, and 5 outdoor swimming pools and more. 
Grand Palladium Montego Bay All Inclusive Vacation Resort
While not quite getting the reviews of some other Montego Bay all inclusive resorts on this page, this resort does wow a lot of visitors. Also looks like visits have improved recently and families are loving it.
Check out the latest reviews of the Grand Palladium Jamaican Spa & Resort

Grand Palladium Jamaica Resort & Spa All Inclusive  deals @ expedia

---
Sandals Royal Caribbean Montego Bay Resort and Private Island
Another excellent couples resort right next to the Sandals Resort Montego Bay. You can share the facilities with two other resort nearby. For example, this would give opportunities of dining in 11 different top class restaurants.
Of all the Sandals resorts, this one gets the best feedback and is the most upscale.
Montego Bay Luxury Resort
Amenities: Continental breakfast in bed, offshore, private island with a pool with a swim-up bar,  private beach and Thai restaurant, four gourmet restaurants and five bars.

Rooms: at the Concierge (CS) level, guestrooms have a four-poster King bed, in-room bar and special concierge services. Suites have full room-service, marble bath adjacent to living area, and a patio or balcony.
Reviews: Guests liked that the resort was smaller and more intimate than some other Sandals (like the Royal Bahamian and Grande St. Lucian). Staff are reported to be excellent and food is very good. Check the latest reviews here. 
Deal! Get 2 Nights Free plus save up to 65% and a $250 Red Lane Spa credit at Sandals Royal Caribbean. Click Here!

---
Grand Palladium Lady Hamilton Spa & Resort Montego Bay
This beachfront resort is 40 minutes from Montego Bay airport in Lucea. The resort shares facilities with the Grand Palladium Resort and at the time of writing, they are finishing a waterpark as well as a few more projects.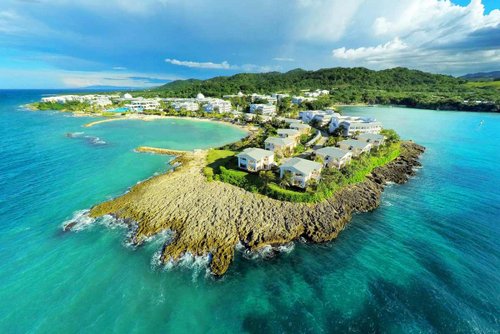 Grand Palladium Lady Hamilton Spa & Resort Montego Bay
Water sports  tennis, basketball, volleyball and a and full-service spa and nightlife are also some of the things you'll find. 
Reviews of Lady Hamilton are quite good. Couples especially love this place (although we expect families to start making a strong presence with the addition of the waterpark). Some like the theme buffets but say some days are better than other. Expect the casual pace of Jamaica here!
Grand Palladium Lady Hamilton Spa & Resort Montego Bay at TripAdvisor

---
Half Moon All Inclusive Resort
An exceptional 5 star all inclusive at Rose Hall. On 400 acres of tropical landscape on Jamaica's northern coast.
Kids: They have their own children's village and have been known to let all teenagers stay for free in the summer. Good full day and half day programs.

There's a good choice of guest rooms, suites and private villas.
Amenities: 72-hole golf course designed by Robert Trent Jones Sr., 13 tennis courts, 4 squash courts, 51 swimming pools, dolphin lagoon, croquet lawn. And also a putting green, jogging and cycling trails, basketball and volleyball courts, world-class equestrian centre, gym with personal trainers, gourmet dining, duty-free shopping and complete spa facilities.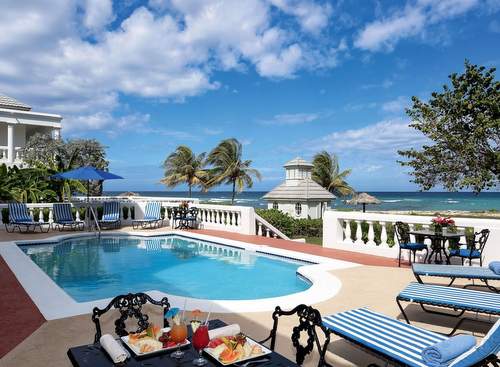 Half Moon
Reviews: They like to say on their website that the Castro and Queen Elizabeth II stayed here. Sounds like quite a party. They more than likely would not have had much trouble finding a place to perch by the pool because of the ample furniture. Weddings seem to go off without any serious hitches. Food was excellent and fresh and served with warm friendly smiles on the side. As all restaurants and bars are situated right on the beach, this is also a big help. An all round great all inclusive that is fitting for a queen or military dictator. Read the latest reviews for Half Moon here.

Half Moon deals @ expedia

If you are looking exclusively for a villa check out our best Jamaica Vacation Resorts Villas.

---
Hotel Riu Palace Montego Bay Jamaica All Inclusive Resort 
This 24 hour, all inclusive adults only resort is known for its relaxing atmosphere and offers a wide range of activities. There's a spa / wellness center, fresh water pool and it's close to a number of attractions like Glistening Bay. 
Reviews are excellent for this 4 star resort by the famous chain. A good variety of water sports and activities and friendly and helpful entertainment staff. It's an all inclusive resort (in Jamaica) with Venetian architecture. Interesting!
Riu Montego Bay Jamaica All Inclusive Resort
All the meals are in one location but there is a choice of the buffet or you can visit a cooking stations. If that does not take you fancy, there is always the Italian, Asian buffet, and grilled seafood / steak restaurants.

Deals, reviews and more information on the Riu Montego Bay All Inclusive.
---
Top Montego Bay All Inclusive Resorts Video
The Montego Bay all inclusive resorts playlist including an introduction video to some of the top Montego Bay attractions.  

---
More in the area:
All Montego Bay Resorts

Montego Bay All Inclusive Family Resorts
Ocho Rios All Inclusive Resorts
---
Stayed in some Montego Bay all inclusive resorts? Let others know which ones to go to (or stay away from).
---