Argentina Holidays and Resorts
Welcome to the Argentina holidays and resorts guide and Bliss List. Here you can find all you need to know about where to visit in Argentina and the great resorts in that area. We've listed resorts in Ushuaia, Mendoza, Iguazu, San Carlos de Barlioche and more.
Get An Expert Price Comparison
Try the price comparison tool for discounts on flights, hotels, packages, and more. Get huge savings and find the LOWEST PRICE when you compare the top travel sites in one place and the the top sites travel compete for your business.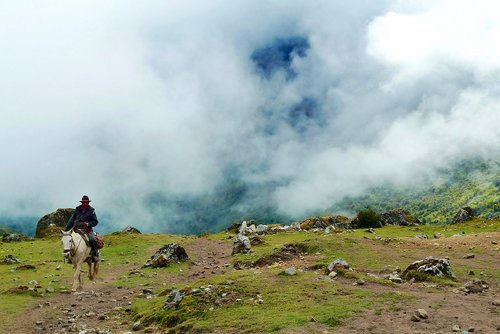 ---
Antarctica Adventure
You wont find accommodation in Antarctica but this as close as you want to stay. The Ushuaia area is a great spot for Argentina holidays and resorts. 
Recommended tour: 
G Adventures has an exceptional 24-day journey goes from the magnificent Lake District of Argentina, and the rugged Patagonian mountains to Antarctica itself. After your Argentina adventure discover the Antarctic Circle aboard the comfortable M/S Expedition for excursions ashore.
Lake District of Patagonia & Quest for the Antarctic Circle

Antarctica, Argentina Tours through the Drake Passage
Great Resorts in this Area:
Los Cauquenes Resort & Spa
Los Cauquenes is a 5 star resort in the south of Argentina in Ushuaia or the end of the world. It has an American style buffet breakfast, gym, full-service spa, indoor pool, free kid's club, shuttle to town, wifi, and a number of full day experiences and activities you can opt in to. It's in a national park and there is a lot to do in the area. 
Reviews are excellent here. Past guests love the view, say the service is fantastic, and say it's the best choice in Ushuaia. 
Get more information and see the latest reviews for Los Cauquenes.
You may also want to take a look at: 
Arakur Ushuaia Resort & Spa: buffet breakfast, indoor and outdoor pools, shuttles.
Las Hayas Ushuaia Resort: ski shuttle, spa, indoor pool, health club.
---
Buenos Aires
Buenos Aires is the capital city and on the Rio de la Plata. There's great and varied food, it's a shopping paradise, has glamorous tango shows, and great nightlife. 
Here is the resort we recommend in the area is the San Remo Resort Hotel. 

San Remo Resort Buenos Aires
The hotel is located 250 meters from the beach and close to the Artisans Museum and important shops. It's a 3 star resort but gets fantastic reviews.
The San Remo Resort features in-suite rooms equipped with cable TV, phone, laundry service and central heating. Besides this, it has the most beautiful swimming pool of the area, a luxurious solarium and everything guests need to have an unforgettable experience.
Get more information for San Remo here.
More accommodation options in Buenos Aires. 
---
Wine Regions: Mendoza and Salta
Argentina has a great wine region surrounded by the beauty of mountains, plains and forest. Here's a bit about this area:

Our favourite resort in the wine region:
The Vines Resort & Spa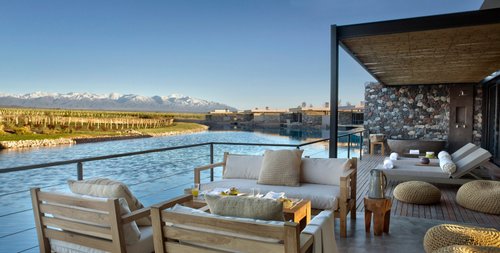 Recently named one of the best hotels in the world, The Vines is in the wine region on Mendoza. It's a great spot for wine tasting, dining care of famous chef Francis Mallmann, and learn about winemaking. There's also horseback riding, a spa, gauchos to help answer your questions and much more.
Get more information and see the latest reviews for The Vines Resort and Spa. 
---
Córdoba & Traslasierra Valley
Cordoba is surrounded by beautiful mountains and old colonial buildings in the city. There are a number great resorts in this area. Here are our favourites:
Los Pinos Resort & Spa Termal
Argentina Holiday and Resorts
North of Cordoba (city), Los Pinos is a 5 star resort and gets excellent reviews from past guests. It has an outdoor pool, thermal hot tub, spa, fitness centre, tennis court and all meals and drinks are included. The city centre of Termas de Rio Hondo is walking distance.  
Get more information and see the latest reviews for Los Pinos Resort.
La Posada del Qenti Medical Spa & Resort
A unique resort with a medical wellness bent, this resort gets excellent reviews and is in Villa Icho Cruz. They have weight management, quit smoking, antistress and diabetes programs. There's a spa as well and it's a great spot for a healthy getaway. 
Get more information from the resort website or see the latest reviews here. 
---
---
San Carlos de Bariloche
In the foothills of the Andes, this area is a natural paradise with mountains, lakes, trees, wildlife ... and great resorts! One of the great spots for Argentina holidays and resorts.
Here's a quick video about the area:
Best Resorts in the Area:
Llao Llao Hotel and Resort, Golf-Spa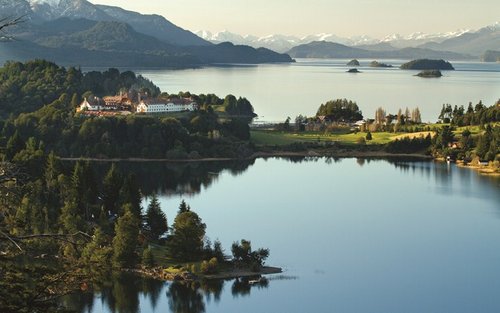 5 star luxury property in the lake district of San Carlos de Bariloche. It's like a luxurious mountain lodge with fireplaces, views of mountains and lakes, golf, mountain biking in the area, sophisticated restaurants and spa. 
Get more information and see the latest reviews for Llao Llao.  
Villa Huinid Resort & Spa
A 4 star resort hotel on the luxury side of things. It has a pool, not far from the city centre, beautiful landscaped grounds, rooms are room and cozy.
Get more information and see the latest reviews for Villa Huinid.
More excellent resorts in the area:
More on San Carlos de Barlioche.
---
Beach Argentina Holidays and Resorts
Although it's not right on the beach, our top beach resort in Argentina is:
Alto Miramar Resort & Spa
Pool Area
Close to the beach zone, this 4 star resort has an outdoor pool, restaurant, fitness centre, hot tub, and gardens. This resort also gets excellent reviews.
Get more information and see the latest reviews.
---
One more: 
Iguazu Grand Resort, Spa & Casino
Located close to Iguazu Falls, this resort has jungle, tropics, and amazing plants and wildlife. It's an all suite resort, has a number of restaurant options, a spa, casino fitness room and tennis club. 
Get more information and see the latest reviews. 
More about Iguazu and accommodation options here. 
---
We hope you found some great Argentina holidays and resorts ideas! For more ideas, check out the destination menu on the right.
---