Whitsunday Islands Australia
The Whitsunday Islands Australia are located midway along the reef have some of the best accommodation options and transfers run between Airlie beach and the islands constantly. These island really hold a special place in world travel and deserve to make your bucket list of exotic destinations to visit. 
You may also like to see our review of the top Queensland Island Resorts.
Whitsunday Islands Australia
Fleets of boats from different companies make the journey each day to almost any of the islands that have resorts.  Alternatively you may prefer to jet into Hamilton Island and catch a transfer from there to the island of your choice.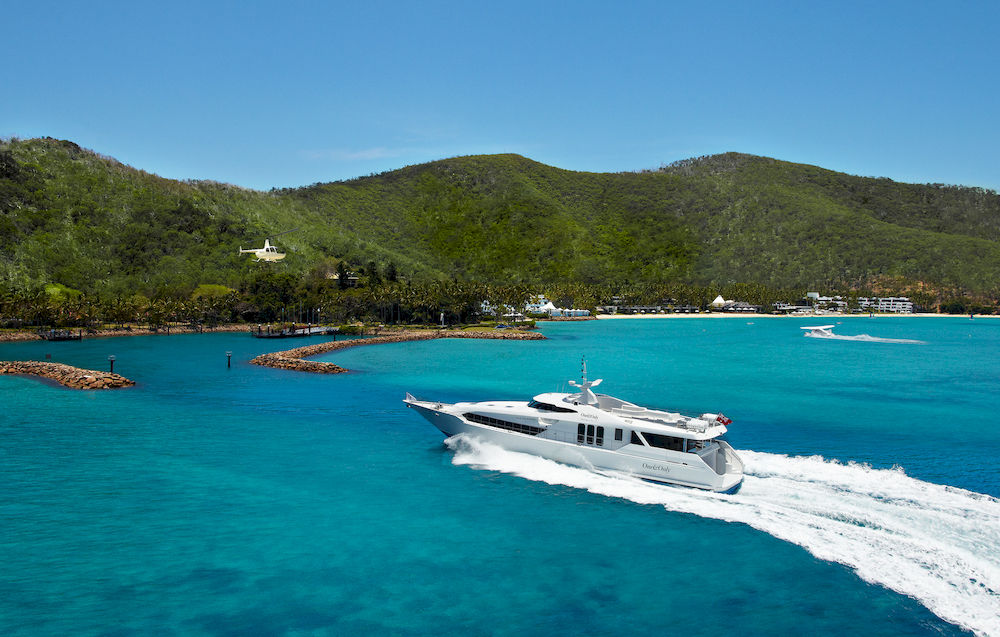 Haymen Island
The Whitsunday Islands were created as a result of volcanic activity hundreds of millions of years ago. Keep an eye out for Humpback whales cruising if you are in the area from july to September.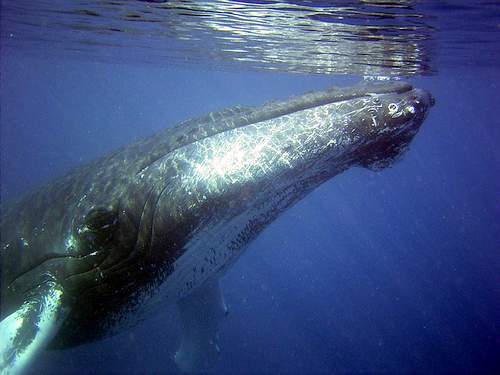 Whales in the Whitsundays
The Coral Sea is the setting for these 74 majestic islands which are pooled is oceans of wonderful shades of deep blue and green. Seas are relatively calm in this area of Queensland which is sheltered by the Great Barrier Reef and you can easily find family beaches and snorkelling areas for beginners on most islands with coral views. This also makes cruising the sea on sailing boats and cruises a popular occupation in the area and there is a rich culture of boating and surf clubs.
Perhaps the most famous example of the beautiful pristine beaches is Whitehaven which often. This is a picture I took when my wife were on Whitehaven for our babymoon a few years back in mid summer. You cant help but marvel at the white silica sand which the image does not really do justice.
You can see the dark clouds building for an afternoon storm, which can happen a bit in the summer. Personally living in the Queensland tropics I learned to appreciate the drama of the summer wet season and really liked the refreshing change that the rains bring. Trips are available to whitehaven and the reef from your island resort as well. It's a great day to spend a whole day at an island that doesn't have anyone living on it or any accommodation.

Airlie Beach is the gateway port to the Whitsunday Islands Australia and also gateway port to the Great Barrier Reef islands.
Daydream Whitsunday Island Resort
Daydream Island Resort is really the peoples resort and is not too expensive when you pick up a special offer. THere are 300 rooms, a good sized spa, and a marine habitat. You can also snorkel aon the local coral reef. Put put, restaurants and lots of other attractions give this Whitsunday island an upbeat vibe.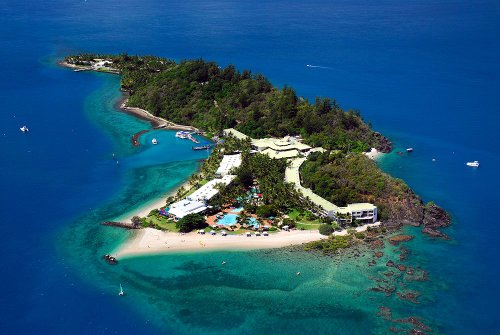 Daydream Island Resort & Spa, Daydream Island
One of the closest resorts to the mainland and one of the most popular with locals is Daydream Island. You can also take a daytrip to Daydream and many of the other resorts in the Whitsundays for that matter from Airlie Beach / Shute Harbour and some of the other resorts in the area, and you will also find boats heading from the mainland will stop by this island on their way out to other islands.
Daydream Island Resort, is relatively close to the mainland comparatively but far enough away to get the clear blue waters. Located in the heart of Queensland's Great Barrier Reef, Daydream offers a world of possibility for fun, adventure, romance and relaxation.

---
Bedarra Whitsunday Island Australia
Special Hotel Deals in Bedarra Island, Australia
---
Brampton Island Whitsunday Island Resort
Brampton Island Resort Voyages 

A short boat trip from Mackay and with seven golden sandy beaches and colourful coral gardens. On the Whitsunday Island Passage this resort is a good 50 km south of Hamilton Island which makes it a little separated from many of the Whitsunday Resorts. A good place for romantic escape and to enjoy the local island l National Park without distractions.

---
Hayman Island Whitsunday Resort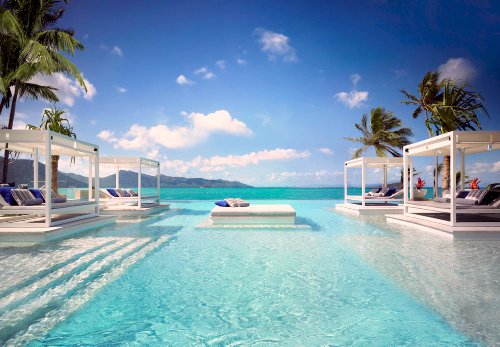 Hayman Island Whitsunday Resort
One&Only Hayman Island Resort is one of the star resorts in North Queensland and often features in tourism promotions for good reason. This resort has been around for a while now and was talked about in worlds best resorts lists years ago. Thanks to some recent upgrades, and new management and the resort continues to deliver.

| | |
| --- | --- |
| Considered a worlds best resort with beautifully appointed rooms on the Coral Sea.... | |
---
Long Island Resort Whitsundays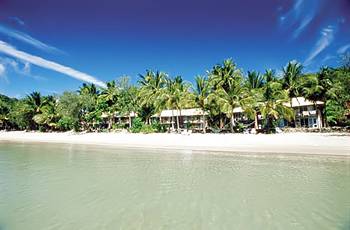 Long Island Resort

Hotel Special Deals in Long Island
Restaurants, swimming pools, tennis courts, kids club, activities, bars, with great nightly entertainment...
Long Island Resort in the Whitsundays has better rating by past guests than many of the other resorts on this page and definitely worth considering for an island adventure.
---
Hamilton apart from Airlie beach is another of the resorts in the Whitsunday Islands which is a hub for many of the other resorts islands with a good sized domestic Airport bringing in gusts from around the country.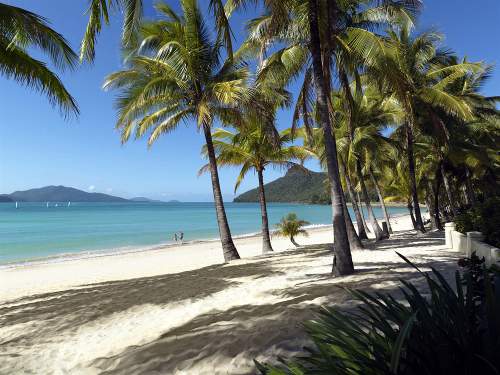 Hamilton Island Resorts
Hamilton Island has quite a number of resorts which we have reviewed on our Hamilton Island page. The 5 star Beach Club (image above) offers an intimate holiday experience that is perfect for couples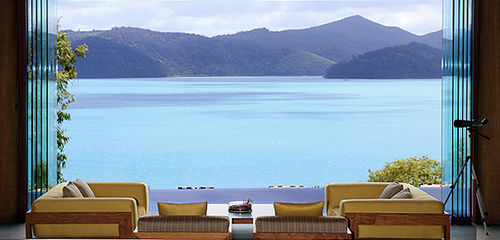 Qualia Resort - Hamilton Island
Enjoy 30 acres of tropical garden landscape on the northern most tip of Hamilton Island at Qualia.

---
Orpheus Whitsunday Island Resort Hotel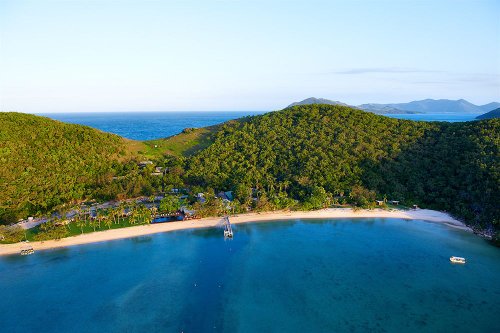 Orpheus Whitsunday Island Resort Hotel
Orpheus Resort Hotel

One of the world's most exclusive private island destinations. on the Great Barrier Reef and surrounded by pristine national park.

---
South Molle Whitsunday Islands Hotels
Special Hotel Deals in South Molle Island, Australia
If I'm honest I can't keep up with the name changes for this island then I'm going to call it by it's long established name the locals know it by -  South Molle Island.
The only 18+ island resort in the Whitsundays, Koala Adventure Island offers adventure and nature. Check the link above to check out what is happening here these days.
Coke ad filmed here;
---
Bedarra Island Resort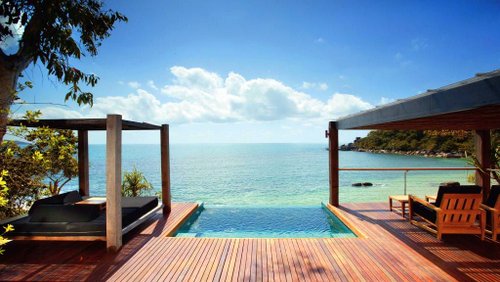 Bedarra Island Resort also known as the barefoot island which allows only 7 guest villas to maintain the perfect escape getaway environment.

Bedarra Island Resort


One of Australia's most exclusive resorst, and private hideaway, off the coast of Queensland.
*****
Read more on this resort on our Australia All Inclusive Resorts review.
---
Note: I would assume Dunk will remain closed for years due to Cyclone Yassi

While you don't stay on the reef itself in the Whitsundays, it is a truly magnificent destination surrounded by blue waters, white sands and views of many of the  enormous number of islands. Simply have the island resort arrange your boat transfer out to the main body of the reef on the days you would like to make the journey. Many reef tours will provide meals and all you need for a great day on the reef.

The Whitsunday Island resorts have been suffering a decline in tourism in recent years. This has been largely due to the high Australian Dollar in comparison to other currencies. Now it seems the local currency has finally devalued for a while and once again you can get good value for money for your great Barrier Reef vacation.

---