All Inclusive Ocho Rios Resorts
Welcome to All Inclusive Ocho Rios Resorts and Jamaica Deals. Here you can find all you need to know about Ocho Rios to make for a great vacation. 
Ocho Rios on the north side of Jamaica below the rising mountains. It's true tropical paradise of waterfalls, beaches and lush vegetation with great attractions at hand. Scroll down to browse the resorts or go directly to the Ocho Rios adult only resorts or Ocho Rios family resorts.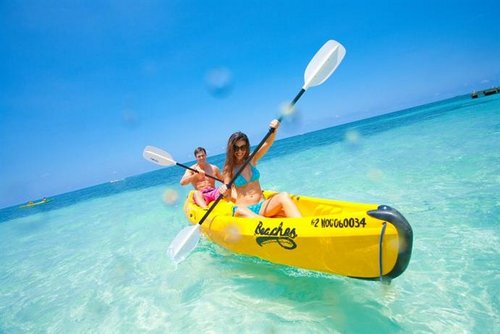 Beaches Ocho Rios Resor
---
Ocho Rios Adult Only & Couples Only All Inclusive Resorts
These are our top all inclusive resorts in Ocho Rios for couples. These resorts cater especially well to couples and often have an age 16 and older policy. They also may be an especially good resort to enjoy a romantic getaway. 
Couples Tower Isle
Ocho Rios All Inclusive Resort
This all inclusive Ocho Rios resort is a top innovator. The adults resort enjoys a nice position for a day trip to Dunns River Falls and days spent on white sandy beaches. This is Jamaica's original all-inclusive resort for couples and is situated on 19 acres and has a range of included activities including scuba and golf.
A lot of people have been impressed this luxury all inclusive has a veggie bar for vegetarians and the health conscious. See more reviews from past guests.
More information on Couples Tower Isle All Inclusive

Couples Tower Isle Official Video 

---
Couples San Souci
Ocho Rios All Inclusive Resort
Couples arises majestically from the cliffs of Jamaica's emerald mountains. This outstanding 150 room resort gets an A rating from us. Private cabanas for spa treatments, rock paths, natural mineral springs, and colonial buildings feature in this exciting location resort.

Couples San Souci full service health spa has body treatments, massage/treatment rooms, facials, and beauty services. All achieved in stylish 4.5 star luxury, you won't go wrong.
It has dining options that include 4 restaurants, a swim up bar, a poolside bar-lounge  an awesome outdoor pool, a health club, a spa tub, a sauna, and a fitness facility.
This resort gets excellent reviews with past guests loving the size of the gardens, food and good service.
More information and reviews on Couples San Souci.
---
Sandals Royal Plantation Ocho Rios
All Inclusive Resort
Sandals Royal Plantation is really great. It's an award-winning all inclusive butler resort with a magnificent spa and on a coral bluff. This is an all-suite boutique resort with only 74 suites.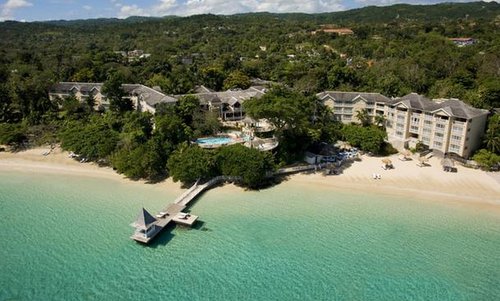 Sandals Royal Plantation Ocho Rios All Inclusive Resort
There are 2 private cove beaches, afternoon tea service, unlimited land and water sports - including scuba diving and unlimited dining at 5 restaurants. Royal Plantation exudes a heightened level of luxury and romance. 

Reviews of this resort are excellent with it's hospitality, grounds and food being praised often. Read the latest Sandals Royal Plantation reviews here. 

Deal: Save up to 65% at Sandals Royal Plantation. 
---
---
Jamaica Inn, Ocho Rios
Adult Only All Inclusive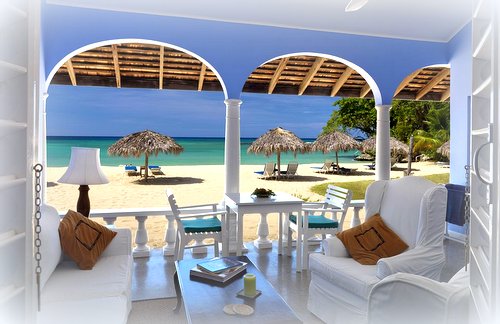 Jamaica Inn, Ocho Rios
Even with only 50 rooms, this resort has been one of the top resort hotels and vacation destinations in the Caribbean for generations. An A+ rating from us for a truly outstanding resort.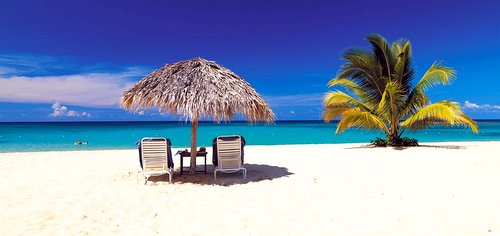 Other travel authorities like Condé Nast Traveler and Travel + Leisure, Winston Churchill, Marilyn Monroe, Noel Coward and Ian Fleming have also rated this resort highly over the years.
A breakfast of local dishes, seaside seafood lunches or romantic dinners alone are some of your dining options. A fantastic holistic spa, windsurfing, sailing... the luxury features go on and on.
More information and review for Jamaica Inn. 
---
Ocho Rios All Inclusive Family Vacation Resorts
These resorts cater especially well for families with children of all ages. Check these out for an Ocho Rios all inclusive family vacation.
---
Beaches Boscobel Ocho Rios
Jamaica Family All Inclusive Resort
Beaches Boscobel is a family focused resort with a pirate ship water park. It's a five minute ride from Ocho Rios and Dunns River. There are also lots of great things for the children to do around the resort.

Never will you need to think of things to do with the kids. While they are at the children's golf clinic or a performance of Sesame Street by the original characters, you can supervise or do your own adult style activities. There are lots to choose from.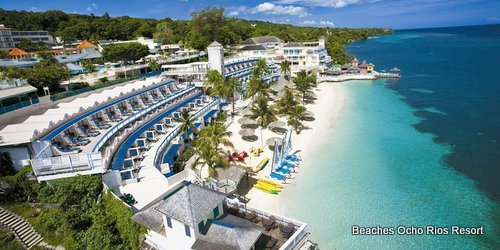 Beaches Ocho Rios Jamaica Family All Inclusive Resort
At Beaches you never know when Big Bird or some other Sesame street character will appear out of the wood work to your child's delight.
Deals: Shop Kid Friendly Vacations At Beaches Resorts.

---
Sunset Grande  All Inclusive Ocho Rios Family Resort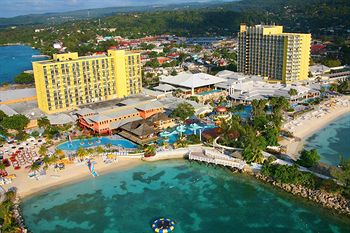 Sunset Grande Ocho Rios Jamaica All Inclusive Family Resort
Fresh multi-million dollar enhancements to the lobby, restaurants, pools and spa have recently improved this resort. It is an affordable option if you can get a good value flight.
Offers for Sunset Jamaica Grande Resort-All Inclusive, Saint Ann

---
Find a great all inclusive Ocho Rios resort? If you want to look around some more, check out:
Montego Bay All Inclusive Resorts
---
Have an all inclusive Ocho Rios resort to recommend? Let others know!