Best Resorts in Cancun Mexico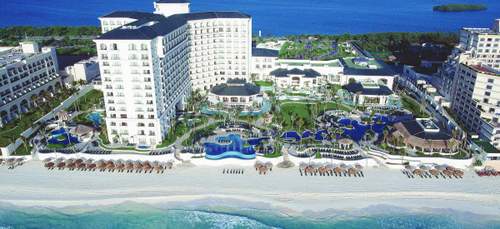 JW Marriott Cancun
---
The Ritz-Carlton Cancun
This is possibly the best resort in Cancun and a resort that others compare themselves to to see how they are doing.
Location: On a white sand beach right near the marina. Minutes from golf, markets, ritzy shopping, nightlife and Mayan sites.
The Ritz-Carlton Cancun
Amenities: There's buffet, fine dining and private beach-side dining. There are pools, spas, saunas, Internet and computer rental, rooms for Mayan ethnic treatments and bridal bathes, statues and stained glass from Mexican artists, Mexican cooking classes and Tequila tasting.

Rooms: There are 365 guest rooms including 50 suites and 46 Ritz-Carlton Club rooms. The website claims "all guest rooms offer breathtaking views of the Caribbean Sea, private balconies or terraces and a wealth of premium amenities".

The Ritz-Carlton Cancun
Reviews: The Ritz Carlton in Cancun receives exceptional ratings on review websites. It is a little unusual for a hotel to receive perfect grades for service but that what this hotel has achieved over hundreds of reviews. Also, there are outstanding reviews for all the restaurants. Casistas are perhaps the least favored.
Reviews and Special offers for The Ritz-Carlton, Cancun

---
Location: On a white sand beach right near the marina. Minutes from golf, markets, ritzy shopping, nightlife and Mayan sites.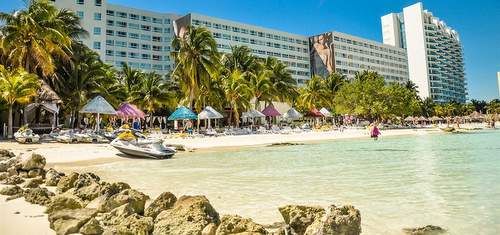 Dreams Cancun All Inclusive Resorts
---
JW Marriott Cancun Resort
One of the best resorts in Cancun Mexico and received the AAA Five Diamond Hotel Award for 2008.
Location: Nine miles from Cancun Airport. Right on the stretch of white sandy beaches.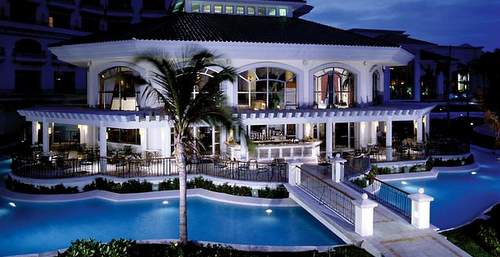 Amenities: There's a 35,000 sq.ft. Mayan-inspired spa with special Life fitness gear. All the other 5 star touches and services you would expect done well. Spa pool and two outdoor form pools. The children's pool and dive pool with reef will keep them entertained. A Business center has over 20,000 sq. ft. of facilities.

Rooms: There are 448 guest rooms all with 32-inch flat-panel LCD televisions, a balcony or terrace and ocean views. Separate bathtub and shower and dual sinks, food & beverage presentations, wireless for a charge.
Reviews: This hotel is rated consistently high across a variety of review sites. Even the Marriott lovers single this one out as amongst the best in the fleet. Also, it's more endearing to a variety of age groups that some of the other activity centered resorts.  
More information and offers on JW Marriott Cancun Hotel
---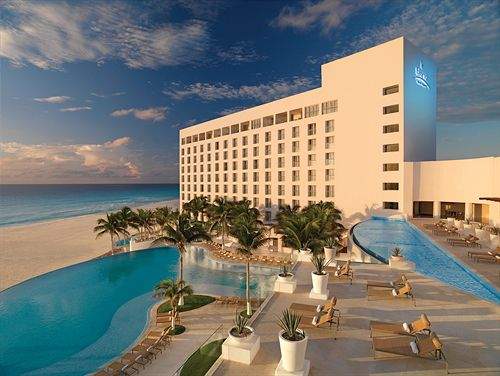 ---

Paraiso de la Bonita Cancun Resort
---
Hard Rock Cancun All Inclusive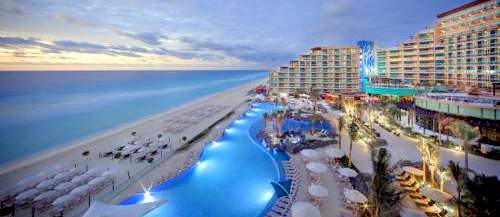 Hard Rock Cancun All Inclusive
The classic well known well established resort in Cancun. There are 601 rooms in creamy colors  and fabrics. Little extras mean things like a Jacuzzi, flat screen  LCD TV with satellite, turndown service and liquor dispenser. Bathrobes and slippers all come standard. Individually controlled air conditioning and a coffee maker are nice touches. Most have ocean view.
This is a longstanding favorite Mexican all inclusive family resort that has now been completely renovated.
Location: Right on the Beach. A little way from Cancun ($35 by taxi). Cancun Palace All Inclusive

Amenities: Included in the the All Inclusive package is Fine Dining, snacks, drinks (domestic & imported), 24-hr. room service, non-motorized water sports at the Wet'n Wild marina, entertainment, all taxes and gratuities, wireless Internet.

Also available is a spa, an outdoor pool, tennis court, and fitness center, ping pong, tables games, pool volleyball, pool basketball. You get the idea.

Special offers for Hard Rock Cancun All Inclusive
The Worlds Best Environmentally Sustainable Hotels And Resorts. Please add your recommendations. We look forward to bringing ou the best eco packages from all over the world.

---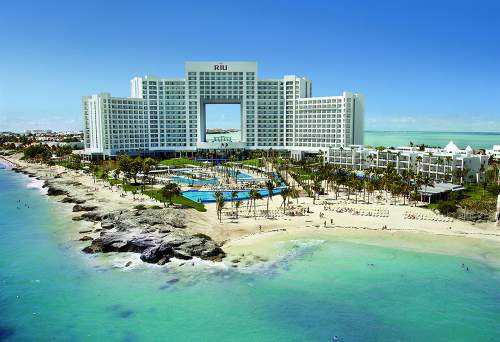 Riu Cancun Resorts
---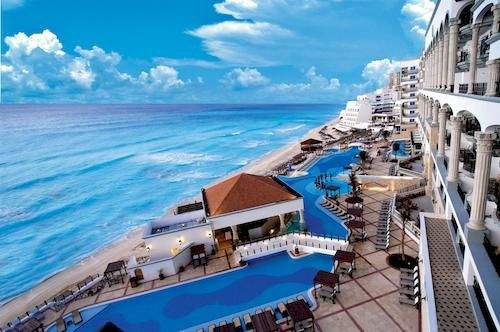 Hyatt Zilara Cancun Adult Only All Inclusive Spa Resort
---
Genesis Eco-Oasis
This resort is a quality, economical, eco-friendly option. A haven for artists.
Location: The resort is 300 meters from Ek Balam, an archaeological site considered of traditional Mayan power in Central Yucatan. It is on the edge of a traditional village. 1 ½ hours from Cancun or Merida international airport. 1 ½ hours from the Caribbean beaches. ½ hour from Chichen, Itza. 
Amenities: Bio-filtered swimming pool, outdoor eco-showers, book exchange, artist retreat, vegetarian menus, mountain bikes, coffee shop, a kitchen and garden baths.
Rooms: A family room has two single beds and bathroom on main floor, king sized bed, single bed and hammock in loft. Traditional thatch roof. Foots onto the pool.
Reviews: Receives kudos for friendliness and cleanliness and is consistently high on all domains. Recommended by Fodders and Moon guide books. If you are looking for an environmentally and culturally sustainable option this one is for you.
More information on Genesis Eco-Oasis
---
---