Top Lake Tahoe Ski Resorts
Here are our top Lake Tahoe Ski Resorts. We've chosen our favourites not just luxury alone. Some deliver exactly what the family needs, provide excellent service and are situated right at the ski gondola. All get great reviews from past guests.
We review the best resorts around Heavenly Ski Resort, Northstar California, Squaw Valley and Diamond Peak Ski Resort. 
Get An Expert Price Comparison
Try the BookingBuddy price comparison tool for an easy price comparison on flights, hotels, packages, and more. Get huge savings and  find the LOWEST PRICE when you compare the top travel sites in one place.

Best Lake Tahoe Ski Resorts
View from Resort at Squaw Creek
Heavenly Ski Resort Area
Heavenly Ski Resort is the area that surrounded by the most accommodation resort options. This area overlooks Lake Tahoe, has a higher elevation and "most skiable terrain" compared to other Lake Tahoe ski resorts. Skiers and snowboarders like the variation here and there are some technical challenging runs. Many of the accommodation options are in town and close to the gondola up to the slopes.

---
 The Landing Resort & Spa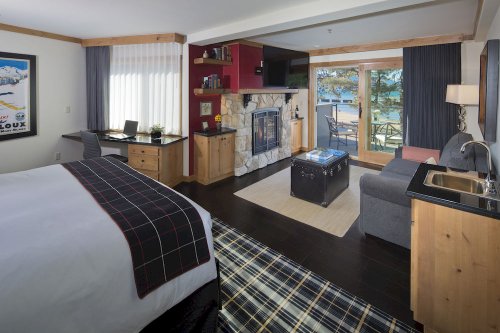 The Landing Resort gets the best reviews of all resorts in this area (at time of writing). It's on the South Shore of Lake Tahoe, is a small 88 rooms and notes it's for "discerning guests". Guestrooms have gas fireplaces and many have lake views. 
Highlights here include a fitness center, full-service spa, large outdoor hot tub, heated pool, ski storage and complementary shuttle to the Heavenly Gondola and Village (3 blocks away). 
Get more information and reviews the The Landing Resort here.
---
Tahoe Beach and Ski Club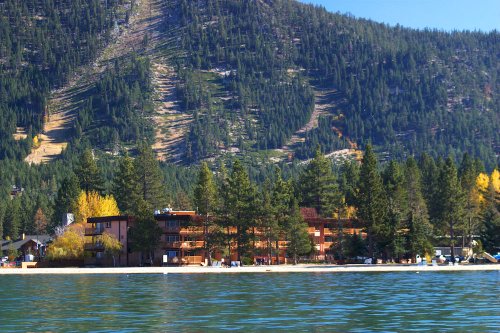 View of ski slopes behind Tahoe Beach and Ski Club
Another of the lakeside ski resorts, Tahoe Beach and Ski Resort gives you views of Lake Tahoe in one direction and the Sierra Nevada Mountains in another.
This resort works well for families and has a year round heated pool, 2 outdoor spa tubs, ski resort shuttles, a restaurant, dry saunas and more. Accommodations are partial or full kitchen suites. 
Get more information and see the latest reviews for Tahoe Beach and Ski Club.
---
Lake Tahoe Resort Hotel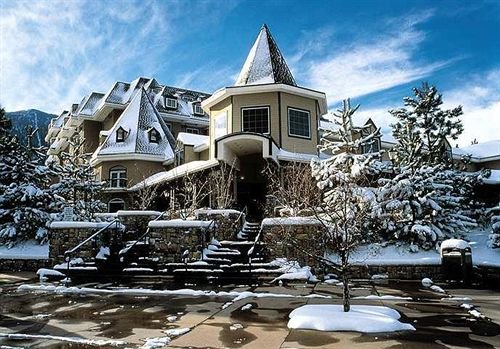 This resort is at the base of Heavenly Mountain Resort and is an all-suite resort. There's a free breakfast buffet, happy hour, indoor pool and ski rentals. 
Get more information and see the latest reviews for Lake Tahoe Resort Hotel. 
---
Aston Lakeland Village Beach & Mountain Resort
Aston Mountain Resort is full of luxury and set among 19 woodland acres. It is lakefront (so a bit further to the slopes) and a condominium resort. 
It gets good reviews by past guests and they note the spaciousness of the condos and say it's great for families.
Get more information and see the latest reviews for Aston Mountain Resort. 
---
Forest Suites Resort at Heavenly Village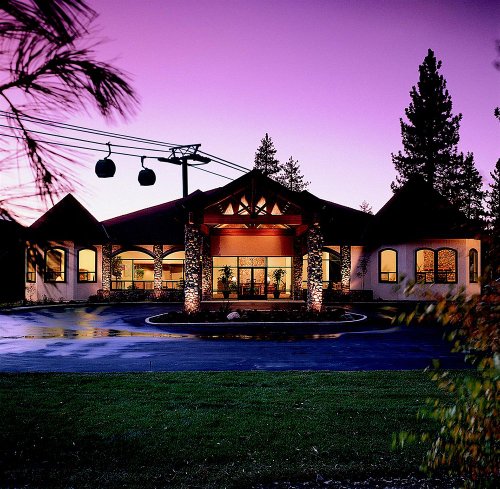 Forest Suites is a mid-range resort but the only one listed here with ski-in / ski-out access. It is just 100 feet from the Heavenly Gondola while also being close to nighlife and other activities in South Tahoe. You can choose from suites or hotel rooms, there is a health club and also spa services. 
Get more information and see the latest reviews for Forest Suites Resort. 
---
3 Peaks Resort and Beach Club
Another mid-range resort hotel, this resort gets good reviews, has 56 condos, and is close to the Gondola. Find out more about 3 Peaks Resort. 
---
---
Ice Rink at Northstar Village
Northstar Ski Resort is a very popular location. We have a page specifically on it. Click here to see Northstar Ski Resort and the best places to stay there. 
---
The Ritz-Carlton, Lake Tahoe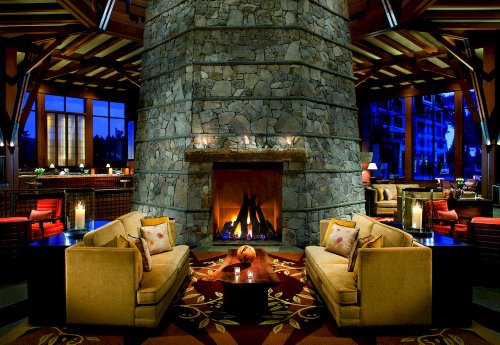 The Ritz in Lake Tahoe is definitely a top choice for a luxury spot. It's mid-mountain at Northstar California Ski Resort and right at Northstar Village. Highlights here include ski-in/ski-out, a mountainside spa, children's programs, and 1-4 bedroom luxurious suites. 
Reviews are excellent here and families note that they are well taken care of and comfortable bringing small children. Fireplaces are also loved. 
Get more information and see the latest reviews for the Ritz-Carlton Lake Tahoe. 
---
More Great Lake Tahoe Ski Resorts:

Resort at Squaw Creek, Lake Tahoe
Located in Olympic Valley and good for families, The Resort at Squaw Creek has great skiing for experts and it's a good spot for snowboarders.
It has had a recent renovation so it looks excellent and has great hot tubs, a spa, an ice rink and was the site of the 1960 Olypmics. Many past guests have noted the excellent service at this resort. 
Get more information and see the latest reviews for Squaw Creek. 
---
Diamond Peak Ski Resort - Family Friendly
Diamond Peak is the most family friendly of all the Lake Tahoe ski resorts. It has easy wide slopes, family packages, a child ski center, uncrowded runs, and ski school for all ski levels. 
Hyatt Regency Lake Tahoe Resort, Spa and Casino
This is our favourite resort in the Diamond Peaks area. It is surrounded by trees, mountains and is lakeside. Highlights include a spa, restaurants, fire pits, year-round outdoor heated pool, outdoor hot tubs and a gym. 
There is a complementary shuttle to Northstar and Diamond Peaks Ski Resort. You also have a service of a ski valet here. Reviews are excellent. 
Get more information and see the latest reviews for The Hyatt Lake Tahoe. 
---
This are all of the great ski resorts in Lake Tahoe. To see more in California, visit California Ski Resorts. 
---
Ski Package Deals
World's Top 50 Most Popular Ski Destinations on TripAdvisor
Top 25 Most Popular Canada and United States Ski Destinations

Think Snow! Great Ski Deals. Book now on Expedia!
More Ski Resorts: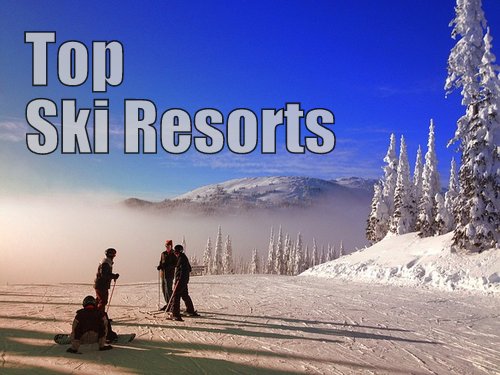 Top Ski Resorts
| | |
| --- | --- |
| Popular USA Ski Resorts | International Ski Resorts |
---