Cheap Florida Vacations
Welcome to the Cheap Florida Vacations Bliss List. Here you can find all you need to know about Florida to make for a successful vacation for less. We recommend you check out the following Florida links to help plan your time away.
We have moved many of our best deals to our best Florida inclusive vacation packages page.

Florida Beach Resorts, Clearwater, Daytona, Disney, Florida Key, All Inclusive Florida Resorts, Jacksonville, Key West, Luxury Florida, Luxury Orlando, Orlando, Miami, Naples, Palm Beach, Sanibel Island, South Florida, Florida Family Resorts, Orlando Family Resorts.
Florida Travel Deals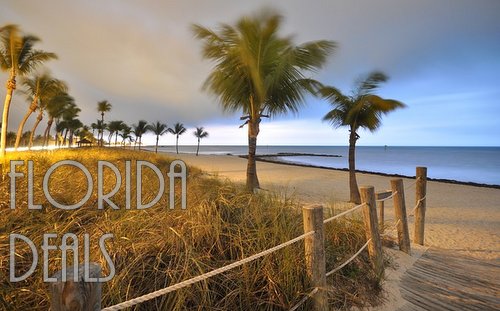 Florida Travel Deals
Check out all the latest discount Florida deals from some of these top travel networks:
---
Get An Expert Price Comparison
Try the BookingBuddy price comparison tool for an easy price comparison on flights, hotels, packages, and more. Get huge savings and  find the LOWEST PRICE when you compare the top travel sites in one place.

Cocoa Beach Resort Reviews 
Known for it's sun and it's surf, Cocoa Beach is a great place to get your dose of Florida bliss.  This area is especially popular for families visiting Cape Canaveral and the Kennedy Space Center.
---
Clearwater Cheap Florida Vacations Deals
Clearwater Florida Vacations
Clearwater has long been a top destination for families and couples alike.  Today it is thriving and finding a little space for yourself in the peak winter season is a challenge unless you head further out of town.

Welcome to Clearwater, Florida - Promotional video for the City of Clearwater, Florida

---
Daytona Beach is well known for car racing and as a fading spring creak mega hot spot. But there is more to it than that. There has been some redevelopment in recent years and there is some gilts returning to this famous beach stretch 
---
---
A wonderful eco location exists today despite the increased number of tourists who make the rip all the way down here. Hundreds of islands with Caribbean style waters surrounding them is the alluring attraction. The calm family friendly water are home to an array of marine critters.
---
Fort Lauderdale is another great beach in history that has entertained holiday makers for years. These days the strip is a little more fancy la dida style than the old party days. But there remains lot's of opportunities to pick up a cheap Florida vacation here.

Only a short trip north of Miami and provides good access to beaches, Everglades and a good many more attractions.
---
Cheap Florida Travel in Miami 
A wonderfully cultural city, with great resorts out by South beach, and a great place to catch a cruise from.
---
Orlando is known for it's theme parks but such a lot of other alternate activities have sprung up you could enjoy these alone on a cheap Florida vacation.  Sea World®, Walt Disney World®, Universal Orlando® and Wet 'n Wild®, are some of the most popular. 
---
There are also hosts of other great Florida vacation spots not even mentioned on this page yet. For example:
Are also top locations in their own right. For more deals, visit our Florida deals page. 
---