Post COVID California Vacation Ideas
Looking for some great Post COVID California Vacation Ideas for an amazing family road trip? We have put together our top vacation ideas for families with children that will make for memories that last. The road trip seemed to us the best way to explore the state given how this is the mode of transport most revered  and suited to covering sometimes big distances and divers landscapes.  Weather you pack a tent, stay at cheap motels or luxury resorts the destinations will stay mostly the same - but camping is going to take a little more preparation and planning. 
Let's start by looking at some of the top California travel spots, and attractions that are going to interest families.
VIDEO: This California Vacation Travel Guide dhows what travel looked like pre pandemic. 
Not only is California the natural wonder of National Parks like Yosemite and rugged coastlines like Big Sur, it is also a bigger economy than most countries in the world with glorious cities like like LA and San Francisco. From the wine valleys to Disneyland, there are more than enough attractions to keep busy. We take you through a journey of some of our favorites.

A California road trip was at the top of our agenda when visiting the United States from our Australian home. Like most areas of the world, Australia is the subject to the whole idea of California dreaming, and the images put out by Hollywood and pop culture.  Personally I was not as much drawn to the pop culture as I was to the diversity of the landscape, and the opportunity to visit an amazing geographical region of the world. From the sparkling blue Pacific  of (which many Australians are quite familiar with from the other side), and across the Sierra Nevada Ranges and into dessert country the changes happen dynamically  and dramatically. Exactly what you want for a road trip to keep the kids entertained. Sure you may have to drive a little more slowly with younger kids as you hug the coastline near Big Sur or cross the range but the rewards are there.

Family Friendly California Destinations
California Road Trip for Families
Your family will plot it's own course through the Golden State, and we will prove resources below to help you make a plan comprising of your own interests. Our great California road trip takes families from San Diego Zoo past Lego-Land, Los Angeles  out to Palm Springs, does Disney, then through the amazing achievement that is Hearst Castle, travels through to San Francisco, Big Sur, Yosemite and ends near Napa.
Home to the world famous San Diego Zoo which is a long established world leader in the open landscape it provides for it's animals. This is a non-brainer for families with children.  San Diego also has many great beaches which are supervised.  Learn More about San Diego Family Vacations and the best San Diego Beaches.  On your way north make sure you check out Lego-land on the way.
VIDEO: San Diego Vacation Travel Guide

Hearst Castle 
California's most treasured family destinations is Hearst Castle located at San Simeon. A good ideas to include this in your road trip as you begin the trip up the Big Sur. 

Lake Tahoe Family Vacation Ideas
Located on the Sierra Nevada at over 6000 feet, Lake Tahoe and its pristine waters that span out across the horizon offer a host of amazing winter and summer activities.

Lake Tahoe Family Vacation Ideas
The video playlist below provides a few ideas to get you started looking for great Tahoe ideas for your family below. But why not check out the line up of activities for families by Lake Tahoe.

Yosemite Ideas for Families
One of the original vast wilderness areas of deep valley falls and meadows, Yosemite is etched into the psyche of the American people as a frontier wilderness utopia in the High Sierra .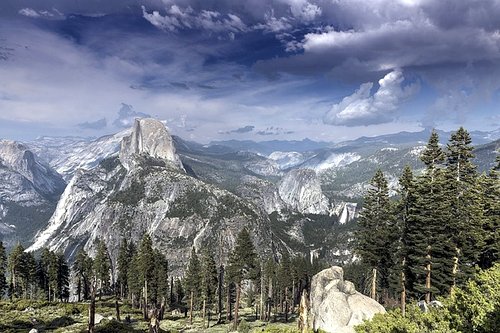 Yosemite Ideas for Families
One of the top strategies required to navigate a family vacation to Yosemite vacation is a beat the summer traffic approach. We guide you through this as well as some of the better places to visit, when to go,  where to camp, and things to do as a family are are all listed on our Yosemite Family Vacation Ideas.

Highlights of Los Angeles
Los Angeles obviously has a lot of the family attractions you are going to want to check out. From the theme parks , Hollywood and the beaches. Check out the attractions with this video:
Palm Springs Family Vacation Ideas
Palm Springs also boasts a lot of family activities you may not expect to find in a desert. While we hold this as an optional part of  your California family road trip we do recommend you do at least consider the option.

For Amusement there is:
Knotts Soak City Water Park Palm Springs.
Boomers! Palm Springs has Miniature Golf, an Arcade, Rock Wall, Go Karts and Bumper Boats and more.
Oasis Water Resort has 13 water slides.
As far as Museums go check out:
Palm Springs Air Museum
Ruddy's Ge
For heritage visit: Palm Springs Aerial Tramway Take the Palm Canyon Drive
Also see;  San Jacinto Mountain, Hike the Agua Caliente Indian Canyons or catch The Fabulous Palm Spring Follies performances.
See Palm Springs Family Vacations and Accommodation
You may have not considered taking the kids of a wine tour of the Napa Valley but that is not all there is to do there. A few things families may find of interest in the area are:
Castello di Amorosa - this is a 13th century Tuscan-style castle and apart from the wines there are horse-drawn vineyard tours.
Skyline Wilderness Park
Calistoga natural Springs and frontier country
Scientopia Discovery Center has exhibits, recycle arts and crafts
Big Sur Family Vacation Ideas
Big Sur is a haven to enjoy the coastline with your family through horseback riding, coast tours or hiking. Where the natural forests meet the shoreline the area has a laid back atmosphere and has long been the haunt of artists and poets attracted by the tranquility. From San Simeon to Carmel there and including Ventana Wilderness area and the Los Padres National Forest this is a quality option for families.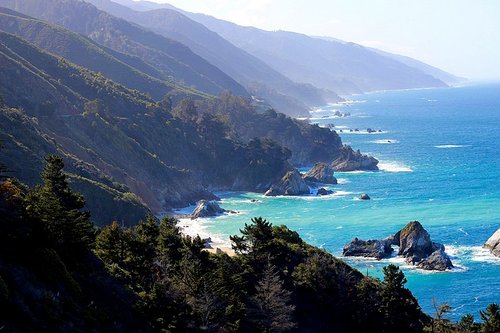 Big Sur on Our California Roadtrip
Big Sur family vacation ideas on this page include but are not limited to ways for the family to find a true connection to each other, nature and their creative core. Big Sur has been the home of family adventures for more than a century but for much of that time only a few elite artists and extreme adventurists had access. The home of the human potential movement and popular with the haunt of artists and poets tranquility great place to get in touch with your soul. We will guide you through some of the activities that will fill your days during one of the most peaceful, serine, and inspiring family vacations you may ever have.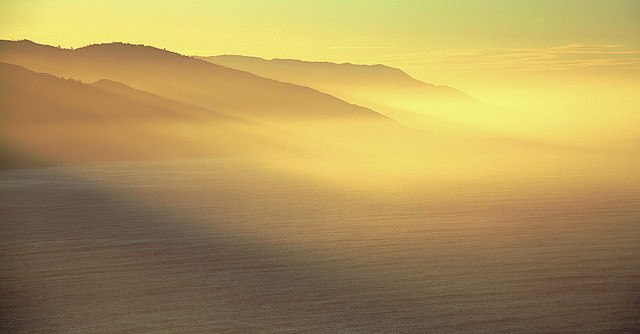 Big Sur post-COVID vacation ideas
Big Sur refers to the "big south" area south of the Monterrey Peninsula in Central California and was named by the original Spanish inhabitants. The area doesn't really have a formal border and our definition as the area from San Simeon to Carmel and including Ventana Wilderness area is only one of many variations. Either way, Big Sur is a haven to enjoy the coastline with your family through horseback riding, coast tours or hiking and can extend as far to the north, south or east as your family desires. 
VIDEO: Big Sur ROAD TRIP | The Mongolian Family
Not since the road fringing the Santa Lucia Mountains and the Blue Pacific was opened in 1937 has the are been populated by more vacationers. Even today the area is barely populated with only a few of the original landowners allowed to maintain their original homes among the mountains. Some of the peaks are among the tallest on the coastline like Cone Peak which rises up  over 1500 meters  This remoteness has meant the area has remained largely unspoiled and retains much of it's original natural attractions which are great for hiking, fishing or simply exploring the beaches.

Big Sur State Parks 
The state parks are a great way to enjoy Big Sur.  Parks in Big Sur offer lots of activities including swimming in the cool rivers, hiking, viewing wildlife or partaking in a ranger program. Some of the parks which are on the Journey include: Information on the parks is available using our search.
Carmel River State Beach in the north
Point Lobos State Natural Reserve 
Point Lobos State Reserve (tel. 831/624-4909), by Carmel is a top location to view marine life including Sea lions, seals, and otters. 
Garrapata State Park
Point Sur State Historic Park
Andrew Molera State Park
Pfeiffer Big Sur State Park
Julia Pfeiffer Burns State Park
John Little State Natural Reserve is the first park you will pass traveling from the south
VIDEO: California State Parks: Russ Christoff visits Pfeiffer Big Sur State Park

McWay Falls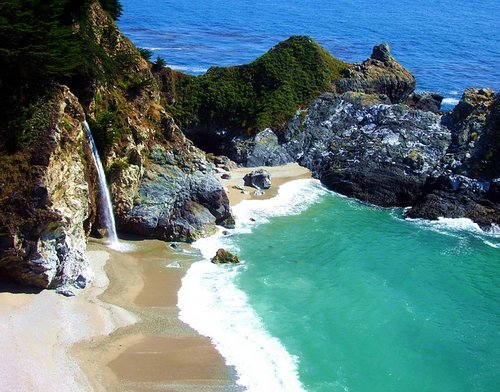 McWay Falls
Five minutes drive to the south of Big Sur Village is one of the most visited attractions in Big Sur where their is an easy trail down to a viewing platform to see the falls dropping 80 feet onto the beach or or sand below.
Watch the video to see images and listen to the commentary of the falls trail. 
Bixby Bridge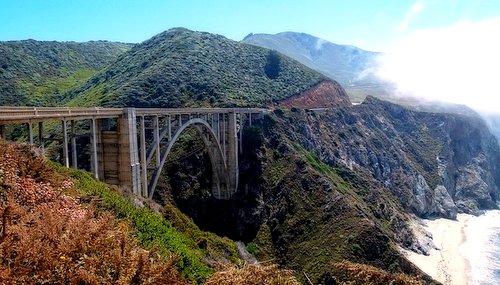 Bixby Bridge
Only about 5 minutes drive north of Big Sur Village you can catch a glimpse of this wonderful 1930s bridge. We taken a different angle in the video below.

Andrew Molera State Park in Big Sur, California
Next attraction is also the biggest park in Big Sur is the less crowded Andrew Molera State Park which also has some good camp sites. Molera Big Sur Trail Rides. Trail rides are available daily except when it gets to wintry from about December to Spring. While the rides don't get the most sizzling reviews by families the service does provide an alternate way to experience the trails and beaches.

Big Sur Weather 

Pfeiffer Big Sur State Park in mid  winter will get  average maximum of 60.0 °F (15.6 °C) and an average minimum of 43.2 °F (6.2 °C). Meanwhile in summer  temperatures ranging from 77.3 °F (25.2 °C) down to  50.2 °F (10.1 °C) prevail. Occasionally mud slides can cause road closures in the wetter winter months. 
SAN FRANCISCO With Kids
In San Francisco Kids will love taking  the cable cars up and down the bay streets.  Jump a a ferry or go whale watching from the harbor. The Golden Gate bridge also has paths for bicycles and pedestrian traffic. 
MUIR WOODS REDWOOD FOREST
What a sight to see and experience Muir Woods Redwood Forest with your family! Open daily from 8 am we really do recommend you arrive there on time, especially in summer, or you won't get a park. 

VIDEO: Hiking Muir Woods: Things to Do in San Francisco with Kids: Family Fun Adventure
The Muir Woods was one of the first places I wanted to include in our road trip plan. The great part is the woods are only about 40 minutes from the Golden Gate bridge in San Francisco.

Muir Woods Redwood Forest
This  National Monument was the first and is only 19 km north of San Francisco over and into the Golden Gate National Recreation Area.  This area of Redwood trees was somehow saved  by the man (William Kent) who enjoyed playing in these forests as a child himself when all around the other magnificent trees were getting torn down.  While many of these giants are around 1000 years old some go back much further through history.  When one of these monsters fall other Redwoods  rise up to take its place, sprouting a straight track of new saplings  rising up in a line. The coastal Sequoia redwoods of Muir Woods. You will find especially large trees in the Bohemian and Cathedral groves at over  250 feet.

The weather here is never really that warm, then go prepared for cold weather. This is especially true in the shoulder seasons and winter. But at least that means it is a little easier to find a park.

Biography of John Muir 
Kids may enjoy hearing the biography of John Wood. For interest, children can learn the location of time in which he walked these areas in comparison to a trees life.  Perhaps you could even locate this time somewhere along the trunk of a tree.

HIGH SIERRA JOHN MUIR TRAIL
This documentary takes you on a tour along the John Muir Trail. In this tour teenagers follow  John Muir's footsteps.