Disneyland Resort California
If you're looking for a Disneyland resort California, there are 3 main resorts to choose from on the Disneyland property. Combined with Disneyland Anaheim, it's sure to make a great vacation!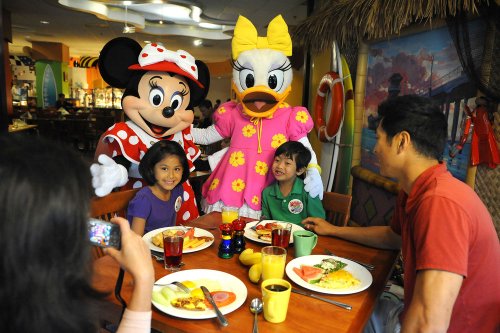 Dining with Disney characters.
Get An Expert Price Comparison
Try the price comparison tool for discounts on flights, hotels, packages, and more. Get huge savings and find the LOWEST PRICE when you compare the top travel sites in one place and the the top sites travel compete for your business. 
Top Disneyland Resort California:
Disneyland Hotel

The Disneyland Hotel is made up of 3 towers and on Disneyland property. It's a short walk to Disneyland Park and Disney California Adventure Park. You can enter and re-enter Disney California Adventure Park using the special entrance at Disney's Grand Californian Hotel & Spa.
Special things here include the themed pools with waterslides, movie nights, character greetings, children's activity center, fitness center, 3 pools with poolside cabanas, and a spa.
There are a variety of restaurants including fine dining, themed restaurants like the Goofy-themed buffet, Steakhouse 55, and casual island dining with it's Polynesian theme.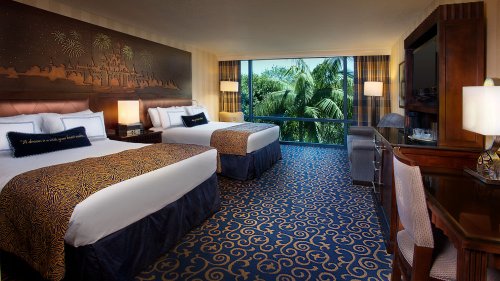 Guest rooms at Disneyland Hotel
Guestrooms are ultra-modern and the price changes depending on the view you would prefer. There are also 1-3 bedroom suites as well as signature themed suites.
Reviews are the highest here for the 3 properties at Disneyland resort California. Many give it perfect reviews but there are others who have had hiccups on their stay. We'd recommend taking a look at what is going on now at the time you're booking.
See the latest reviews and get more information on Disneyland Hotel.

Video overview:
---
Disney's Grand Californian Hotel & Spa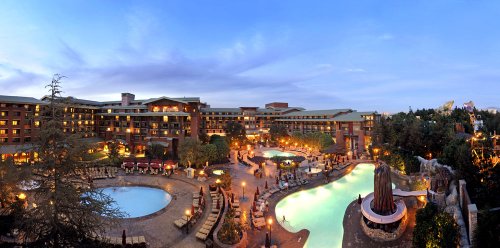 Disney's Grand Californian Hotel is a luxury resort decorated with the rich woods of the Craftsman style. The entrance into Disney California Adventure Park and the Downtown Disney District is located on the grounds of this hotel.
If you are a foodie, here you'll find award-winning food. There's an upscale restaurant with area wines, buffet with at-home style food, quick snack cafe, and more. 
You'll also find a world-class spa, themed pools with a waterslide and poolside cabanas and a supervised children's activity center for ages 5-12.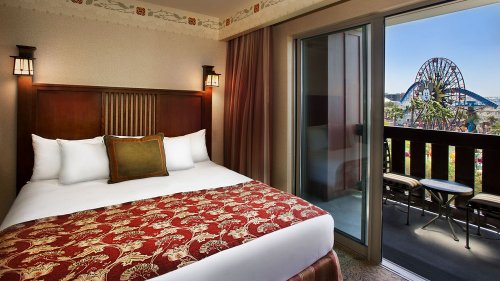 Guestrooms at Disney's Grand Californian Hotel
There are many different types of guestrooms (price varies according to view) as well as 1-3 bedroom suites.

Reviewers say great location, peaceful given the location, close to everything at Disney, beautiful hotel, and expensive but worth it. At the time of writing, reviews have been excellent.

See the the latest reviews and get more information for Disney's Grand Californian Hotel & Spa.
---
---
Disney's Paradise Pier Hotel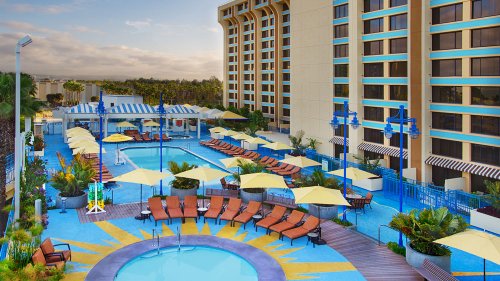 Disney's Paradise Pier is the lowest price option here but it still gets great reviews. It has the feel of California beachfront boardwalks and an old-fashioned vintage feel to it.
There's a rooftop pool with waterslides, breakfast with Disney characters, watching the fireworks show from the pool deck, movie nights, arcade and children's activity center (age 5-12).
Restaurants include a California style grill, lounge and Sand Bar which is more fast-food or for quick snacks.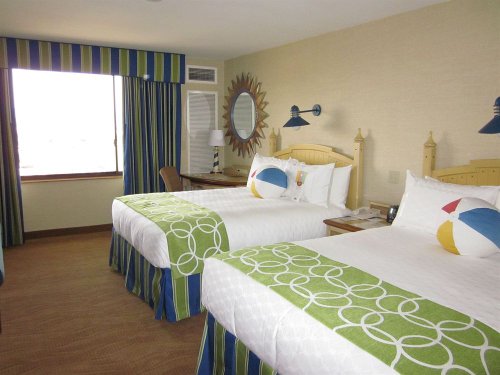 Guestrooms at Disney's Paradise Pier Hotel
Rooms here are the cheapest you will find in all of the Disneyland resorts - by nearly $100. So it's a bit easier on the pocketbook here. There are still a variety of guestrooms and 1-3 bedroom suites. They are beach themed.

Reviews are good here but there are a mix of experiences just like those above. Large families tend to really like it and many appreciate the lower price of this hotel.
See the latest reviews and get more information on Disney's Paradise Pier Hotel.
---
The above are the main Disneyland resort California options, in terms of being right at Disneyland. If you'd like to see more options in Anaheim, take a look at the best Family Friendly hotels and resorts in Anaheim.
To have a look around at all of the other great resorts in California, visit:
San Diego Resorts - SeaWorld is in this area. 
---
---